You will likely end up doing several jobs throughout your career. Seeking advice on multiple careers is essential to stay informed and prepared for the ever-changing job market.
Social media serves as a powerful tool for connecting with professional profiles. Among the available platforms, LinkedIn stands out as the ultimate network for fostering meaningful connections within the business realm.
With its extensive reach and professional focus, LinkedIn provides an unparalleled opportunity to expand your network, engage with industry leaders, and stay abreast of the latest trends and opportunities.
Let's begin!
Matt Barker is a dynamic marketing strategist who excels in developing data-driven marketing campaigns, utilizing his expertise in market research and consumer insights to drive brand engagement and business growth.
Nathan Baugh is a charismatic sales executive known for his exceptional negotiation skills and ability to build strong client relationships, consistently surpassing sales targets and driving revenue growth.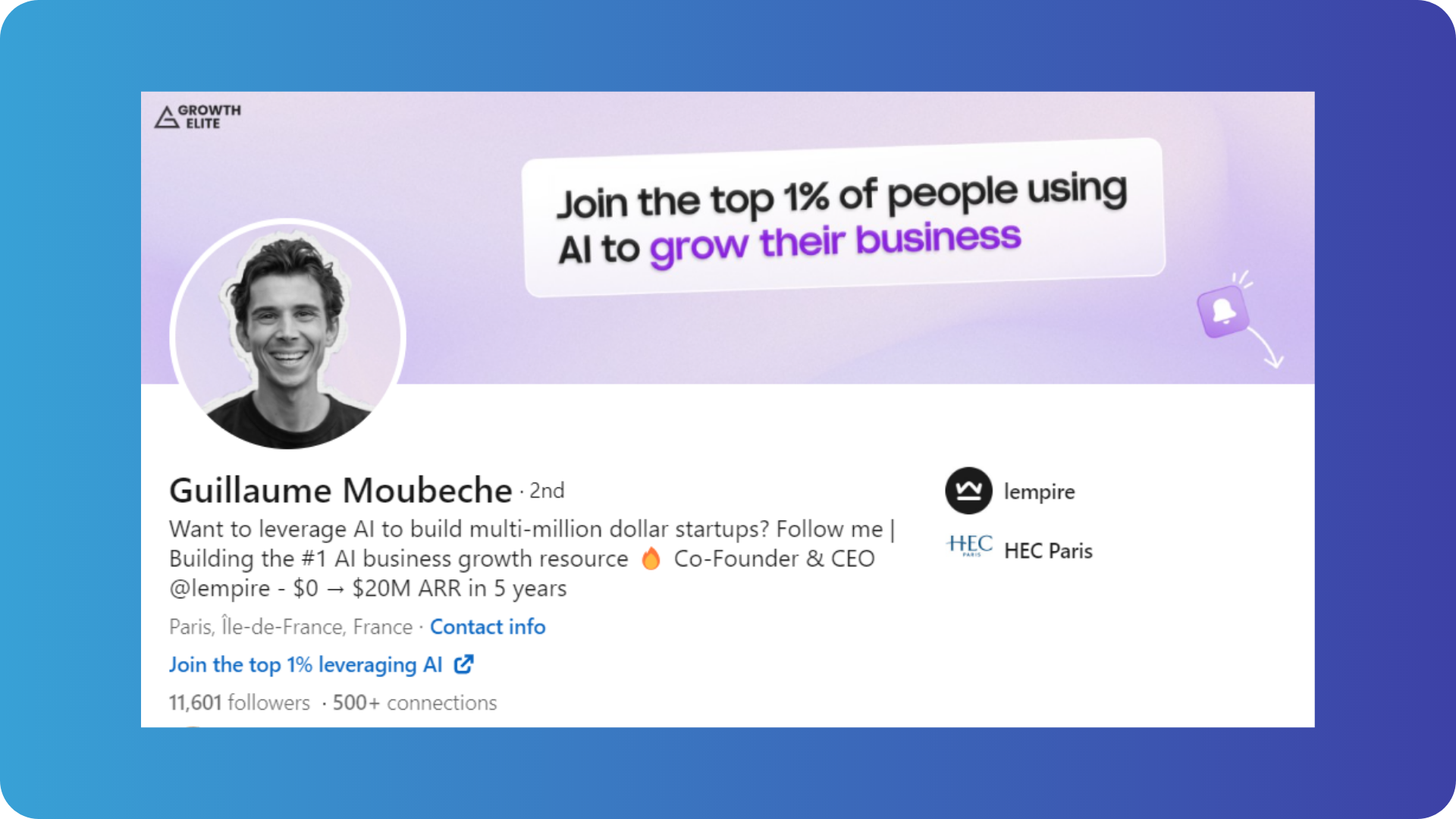 Scott Belsky is a multi-faceted entrepreneur, author, and investor who holds the position of Chief Product Officer and Executive Vice President of Creative Cloud at Adobe. In addition to overseeing all product and engineering aspects of Creative Cloud, he played a pivotal role in the growth and development of Behance, the prominent online platform for the creative industry, which now boasts over 30 million members.
Ben Meer is a strategic business consultant with a sharp analytical mind, guiding organizations through complex challenges and helping them achieve operational efficiency and sustainable growth.
Mushfiq Sarker is a results-oriented digital marketer specializing in search engine optimization and content strategy, driving organic traffic and improving online visibility for businesses across diverse industries.
Alex Wang is a dynamic product manager and tech enthusiast, combining user-centric design principles with technical expertise to deliver innovative and impactful digital products. Alex shares her ideas on data science through her LinkedIn profile.
Nicolas Boucher is a savvy marketing strategist and growth hacker, leveraging his expertise in digital marketing to drive brand awareness, customer acquisition, and revenue growth for businesses.
Anders Liu-Lindberg is a seasoned finance executive and thought leader, driving finance transformation and helping organizations become agile and data-driven in their decision-making processes.
Brij Kishore Pandey is a highly experienced Software Engineer with a strong proficiency in Python, Go, API, and Cloud technologies. Throughout his impressive 14-year career, he has collaborated with renowned global companies, including JP Morgan Chase, American Express, 3M Company, Alaska Airlines, Cigna Healthcare, and ADP.
Khaled Elahmad is a visionary entrepreneur and tech investor, supporting early-stage startups and driving innovation in emerging technologies to shape the future of business and society.
Zain Kahn is a dynamic marketing and communications professional, adept at crafting compelling brand narratives and executing integrated marketing strategies to drive brand awareness and customer engagement.
Dr. Milan Milanović is a highly accomplished researcher and academic in electrical engineering, specializing in renewable energy systems and sustainable technologies, working towards a greener and more sustainable future.
Dr. Joerg Storm is at the forefront of digital transformation and innovation, helping organizations leverage technology and drive organizational change.
Liz Ryan, a renowned HR thought leader, offers invaluable insights on job search strategies and creating fulfilling work environments.
Looking for insights on personal finance and investment strategies? Look no further than Jill Schlesinger, the renowned financial expert and commentator.
An organizational psychologist, Marla Gottschalk, provides insights into workplace psychology and how to foster employee engagement.
Katya Andresen, the marketing strategist, and social impact advocate, knows how to leverage marketing for social change and create a meaningful impact.
Ann Handley is the Chief Content Officer of MarketingProfs, a leading training company empowering marketers globally. Recognized as the most influential woman in Social Media by Forbes, Ann is a renowned speaker and author, offering insights on reimagining business marketing strategies.
Beth Kanter, the nonprofit expert and social media strategist, provides insights on leveraging digital platforms for social good and effective fundraising.
As a financial expert and advocate for military families, Roxanne Bras Petraeus provides insights on personal finance and navigating military benefits.
Rita J. King, the expert in creative thinking and futurism, offers insights on shaping the future through creativity and technology.
Lisa Kebler is a certified personal trainer and fitness coach with over 15 years of experience. She founded LK Fitness, a personal training and online coaching business that helps people achieve their fitness goals.
Pete Koch is a fitness coach, producer, and retired NFL defensive end. He is the creator of the FAST (Functional Advanced Sports Training) system, a comprehensive fitness program combining strength training, conditioning, and nutrition.
Joe Wicks, also known as The Body Coach, is a fitness influencer and author who can motivate you to lead an active lifestyle through his insights on exercise and healthy eating.
Grace Hon, the social entrepreneur and sustainable fashion advocate, provides insights on ethical clothing and the future of fashion.
Rob Riches, the fitness model, and coach, offers insights on bodybuilding, nutrition, and maintaining a healthy lifestyle.
Ian Worthington is an online health, fitness, and nutrition coach who helps busy, stressed, and unhealthy professionals become healthier, energized, and happier. He provides personalized coaching and support to help his clients reach their fitness and health goals.
Autumn Calabrese, the fitness trainer and creator of the 21 Day Fix
program provides insights into fitness, portion control, and sustainable weight loss.
Sherry Khachatryan helps busy professionals and entrepreneurs break through fear and excessive worry to live their healthiest life possible and uplevel faster.
Jessica Walsh is a graphic designer and co-founder of the design studio Work & Co. She is known for her experimental and innovative designs, which often push the boundaries of what is possible with graphic design.
Marvin Liao is a highly influential figure in the venture capital industry, providing strategic guidance and investment expertise to startups, helping them scale and succeed in competitive markets.
Rafael Serra, the product management expert and tech entrepreneur, offers insights on product strategy and building successful tech products.
Pablo Stanley is a graphic designer and illustrator based in the United States. He is known for his minimalist and typographic designs, often featuring simple shapes and clever wordplay.
Brandon Graham is a graphic designer and illustrator based in the United States. He is known for his work in the comic book industry and his personal projects, which often feature a mix of traditional and digital media.
Tina Roth Eisenberg is a graphic designer and entrepreneur in the United States. She is the founder of the popular blog Swiss Miss, and the design studio, MetaDesign. She is known for her playful and colorful designs, which often feature typography and illustration.
Sergio Membrillas, the UX/UI designer and design thinking advocate, provides insights on user-centered design, usability testing, and creating intuitive digital experiences.
Mahima Mahajan, the product marketing manager and brand strategist, shares insights on product positioning, go-to-market strategies, and building brand equity.
Sheikh Al Raihan, the digital marketing expert and social media strategist, offers insights on digital advertising, influencer marketing, and social media campaigns.
Ranganath Krishnamani, the illustrator and visual storyteller, provides insights on visual communication, illustration techniques, and creating compelling narratives through art.
Ujjwala Bassi, the diversity and inclusion advocate, and HR consultant, shares insights on fostering inclusive workplaces, diversity hiring, and promoting equity.
Raj Breno, the tech entrepreneur and startup advisor, offers insights on entrepreneurship, innovation, and scaling early-stage businesses.
Martin Villig, the co-founder of a ride-hailing company and transportation entrepreneur, provides insights on mobility solutions, urban transportation, and the future of mobility.
Abadesi Osunsade, the tech executive and diversity advocate, shares insights on diversity in tech, career development, and empowering underrepresented groups in the industry.
Avi Meir, the travel tech entrepreneur, and CEO of a travel management platform, offers insights on travel industry trends, business travel optimization, and corporate travel management.
Roberta Aca Beta Lucca, the leadership consultant, and executive coach, provides insights on leadership development, emotional intelligence, and building high-performing teams.
Tugce Bulut, a startup's tech entrepreneur and CEO, offers insights on entrepreneurship, fundraising, and scaling businesses in the technology sector.
Jay Clouse is an entrepreneur and podcast host, offering insights on startup culture, and entrepreneurship, and hosting conversations with founders and industry leaders.
Marketing strategist and content creator, providing insights on digital marketing, social media strategies, and creating engaging brand experiences.
Data scientist and machine learning engineer, offering insights on data analysis, predictive modeling, and applying AI algorithms to solve complex problems.
Venture capitalist and startup advisor, providing insights on early-stage investing, fundraising strategies, and supporting entrepreneurs in their growth journey.
Marketing and growth expert, sharing insights on marketing strategy, customer acquisition, and building scalable businesses.
Business executive and former CEO of a leading online travel company, booking.com, offering insights on leadership, organizational culture, and driving innovation in the travel industry.
Serial entrepreneur and angel investor, providing insights on startup investing, technology trends, and the startup ecosystem.
Entrepreneur, angel investor, and philosopher, offering insights on personal development, wealth creation, and the intersection of technology and humanity.
Wendy Tan White MBE is a technology leader and entrepreneur. She is the CEO of Intrinsic, an Alphabet company developing artificial intelligence (AI) for robotics.
Dharmesh Shah is the co-founder and CTO of HubSpot, a leading CRM software company. He is a serial entrepreneur and has founded or co-founded several other companies, including Mixpanel and Aardvark.
Alexis Ohanian Sr. is the co-founder of Reddit and Initialized Capital. He is also the husband of tennis star Serena Williams. Ohanian is a strong advocate for entrepreneurship and has invested in several early-stage companies.
Ilya Sutskever is a leading machine learning researcher and co-founder of OpenAI. He is also a research director at Google AI. Sutskever is known for his work on deep learning and reinforcement learning. He is a recipient of the MacArthur Fellowship and the ACM SIGAI Award for Outstanding Paper in Artificial Intelligence.
Robert Sweeny is the CEO of Epic Games, the creator of the popular video game Fortnite. Sweeny is a successful entrepreneur and has led Epic Games to become one of the world's most valuable video game companies. He is also a vocal critic of Apple's App Store policies.
Jerry (Je Hak) Lee is the CTO of Google. He is responsible for leading the company's technical infrastructure and ensuring that Google's products and services are reliable and scalable. Lee is a renowned computer scientist and has made significant contributions to distributed systems.
Tamara McCleary is the VP of Marketing at HubSpot. She is responsible for leading the company's marketing efforts and driving growth. McCleary is a highly experienced marketer and has held senior positions at several other companies, including Salesforce and Microsoft.
Allie Miller is the Director of Content Marketing at HubSpot. She is responsible for creating and managing the company's content marketing strategy. Miller is a skilled writer and editor who deeply understands content marketing best practices.
Bernard Marr is a best-selling author, keynote speaker, and consultant on business performance. He is the author of over 20 books, including "The Intelligent Leader" and "The 5 Elements of Effective Communication." Marr is a frequent contributor to Forbes and other publications and is a regular speaker at industry events.
Kaiwalya Koparkar is the Head of Marketing at Google Cloud. She is responsible for leading the company's marketing efforts for its cloud computing platform. Koparkar is a seasoned marketer and has held senior positions at several other companies, including Amazon Web Services and Microsoft.
Luis Henrique Bizarro is the VP of Engineering at HubSpot. He leads the company's engineering team and ensures its products and services are reliable and scalable. Bizarro is a highly experienced engineer and has held senior positions at several other companies, including Amazon and Microsoft.
Jen Simmons is the Principal Accessibility Engineer at Google. She ensures that Google's products and services are accessible to people with disabilities. Simmons is a leading expert in accessibility and has spoken at several industry events.
Sarah Drasner is a web developer and author. She is the author of the book "CSS in Depth" and is a frequent speaker at industry events. Drasner is a passionate advocate for web accessibility and has worked on several projects to improve the accessibility of the web.
Remy Sharp is a web developer and consultant. He is the author of the book "Advanced CSS and Sass" and is a frequent speaker at industry events. Sharp is a leading expert in CSS and Sass and has worked on several projects to improve the performance of the web.
Rishab Jolly is a Senior Product Manager at Microsoft who has launched security features for Azure Observability. If you aspire to work as a PM at a FAANG company, following Jolly is a good idea. His work has enabled customers to get authenticated and secured telemetry.
Aakash Gupta is the VP of Product at Apollo, looking over product growth. He shares valuable content on the happenings of SaaS products. Follow him for input on the growing Artificial Intelligence in the SaaS industry.
Devika, a Product Technology Manager at Google, oversees the launch initiatives for the emerging retail ads team. Her primary responsibility lies in developing innovative products that enable Google to extend its advertising presence in growing sectors such as local shopping, jobs, and vehicles.
Chloe Shih's LinkedIn profile speaks volumes about her impressive achievements. She has garnered remarkable accomplishments, including being recognized as one of Forbes' esteemed 30 under 30. At Discord, Shih serves as a Product Manager, specifically focused on Creator Revenue.
With over 58,000 followers on LinkedIn, Peter Yang stands out with his distinct approach among other product professionals. He leverages the platform to offer valuable guidance on enhancing product skills and establishing successful creator businesses. His expertise in this domain sets him apart, making his insights valuable and distinctive.
Gyanda is an exceptional leader and a LinkedIn influencer worth following. Her contributions played a pivotal role in transforming the platform into a resounding success. Beginning her journey at LinkedIn as a Senior Associate in Business Operations in 2010, Gyanda steadily climbed the ranks to achieve the distinguished Vice President of Product Management position in the last decade.
With a wealth of two decades of product experience, Jim Semick has honed his expertise in crafting and promoting outstanding products that stand a higher chance of succeeding in the market. Jim's LinkedIn presence is a treasure trove of valuable resources.
Dan is a highly regarded expert in Lean product methodologies, renowned for co-authoring the best-selling book "The Lean Product Playbook" and hosting the widely popular Lean Product & Lean UX Silicon Valley Meetup. With a wealth of experience, Dan has assisted numerous product leaders in successfully developing top-notch products.
Gibson stands out as a beloved figure in the product community. Renowned for his inspiring and captivating speeches on a wide range of product management topics, Gibson Biddle has garnered a significant following. Notably, Gibson served as the Vice President of Product at Netflix, where he played a pivotal role in driving notable advancements.
This concludes the list of key thought leaders and movers from various industries. They provide you with constant inspiration and willpower to pursue the career that you've always wanted.
Stay connected and leverage the best to enhance your career through LinkedIn and stay ahead of the industry trends that will accelerate your success.