https://ondemand.bannerbear.com/simpleurl/eN6mLGkQNNed9zbP2O/image/title/text/How%20to%20Request%20Recommendations%20on%20LinkedIn
A step-by-step guide on why, whom, and when to ask for recommendations on LinkedIn, as well as tips on how to request them properly.
Request recommendations on LinkedIn / Why you should use them, when and how
Truth is, asking for a recommendation shouldn't feel awkward if you do it right.
That's why, today, we will show you how to request recommendations on LinkedIn. We will also show you an example of a personalized request to model when crafting your recommendation request.
But first, you must understand:
Grow your personal brand on LinkedIn with Taplio! Spend just 10 minutes a day using our all-in-one tool to create better content, schedule posts, build relationships, and monitor results.
Try Taplio for LinkedIn now
and level up your personal brand!
Why You Should Ask for Recommendations Regularly
You are more likely to get LinkedIn recommendations if you just ask. And getting recommended on LinkedIn regularly
Boosts your credibility: Recommendations create positive impressions about you in your prospect's minds. It shows that people like and trust you. It also acts as social proof for your profile visitors.
Keeps your network updated: Recommendations keep your connections and prospects informed about your current skills, products, services, achievements, and experience.
Boosts your SEO: Relevant keywords in your recommendation help you rank higher on LinkedIn and Google search results. This gives your profile more exposure and also helps expand your network.
Who Do I Ask For LinkedIn Recommendations?
Ask people who know you so well professionally that they can offer a clear, reliable, and unbiased testimonial of your skills, expertise, products, or services.
Happy clients, you've worked for
Team members, you've collaborated with
Managers or supervisors you've worked with
Satisfied customers who've used your products or services
Employees or subordinates that report to you
When Is the Right Time to Ask for a Recommendation?
The best time to ask for a LinkedIn recommendation from your connection is when your experience with them is still fresh.
You want a current and accurate description of your abilities and achievements, so strike while the iron is hot—ask when it's most likely to get detailed positive feedback.
Immediately after completing a major project
When your client/customer expresses satisfaction with your service/product
When you reach a milestone in your career
How to Ask for Recommendations on LinkedIn
You can request a LinkedIn recommendation directly on LinkedIn by using the Request a recommendation feature on the LinkedIn profiles of your first-degree connections.
Otherwise, you can request directly from your LinkedIn profile by using the
Recommendations section if you have a recommendation on your profile.
Add a profile section if you have no recommendations on your profile.
Pro tip: Before sending your connection a recommendation request on LinkedIn, notify them upfront via an email or a suitable communication channel, depending on your relationship with them. This way, they'll be more likely to favor your request.
Follow these steps to request a recommendation from a user's LinkedIn profile:
Step 1: Visit the user's LinkedIn profile.
Step 2: On their profile, click More and select Request a recommendation from the drop-down menu.
Step 3: Fill out the recommendation request form and click Send.
Pro tip: Don't use the default message on the form, especially if you didn't inform the connection of your LinkedIn recommendation request beforehand. Customize your message to give the user proper context and a clear idea of what skills or achievements to highlight in the recommendation.
You'll see an example of a personalized message in the next section.
If you're requesting from your profile, follow these steps:
Step 1: Visit your profile, scroll to the Recommendations section, click the plus sign at the right, and select Ask for a recommendation in the drop-down menu.
You won't see the Recommendations section if you don't have a recommendation on your profile. In this case, click the Add profile section button at the top of your profile. In the popup, click Recommendation to open its drop-down menu and click Add recommendations.
Step 2: Type the name of the connection you want to request a recommendation from in the textbox. Select the name from the dropdown that appears and click Continue.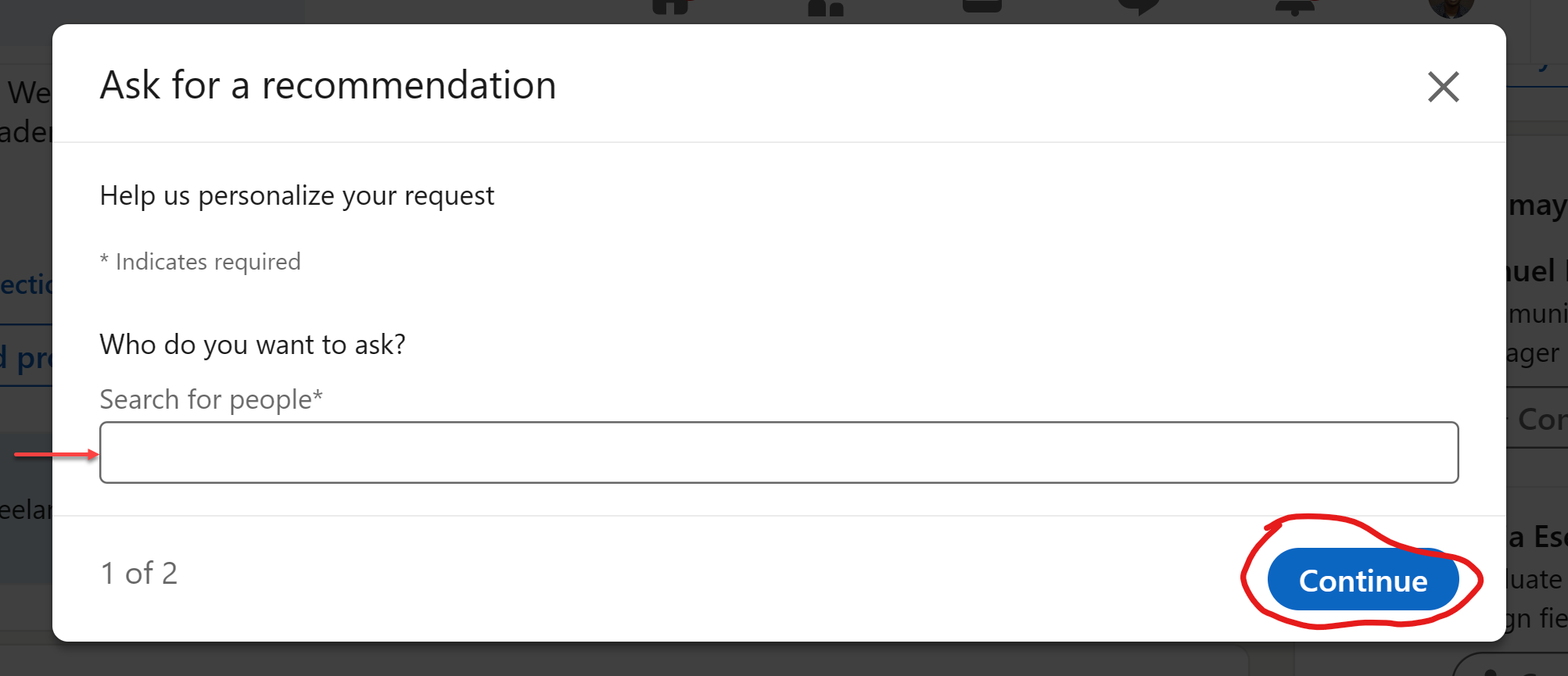 Step 3: Fill out the recommendation request form and click Send.
Once you hit Send, your recommendation request will appear as a private message to the LinkedIn user you're requesting from. The message will include your personalized message from the request form and a link they can use to write the recommendation.
If they give the recommendation, you'll get a private message from them notifying you that they have sent a recommendation with a link to review it. You can:
Add the recommendation to your profile
Dismiss the recommendation
Example of a Personalised Recommendation Request on LinkedIn
Hi, Carie
I'm happy your book sales have increased by over 4X since I helped you revamp the cover and interior designs. Thank you for the total creative freedom you gave me in this project.
Would you take a few minutes to write me a review on my LinkedIn profile? I'd love it if you highlighted my
communication and design strategy
proficiency in photo manipulations for realistic fantasy covers
expertise in typesetting manuscripts for Amazon KDP
This recommendation will help me attract more authors who want irresistible covers and interior design for their fantasy novels.
You will receive a DM on LinkedIn from me with a link that you'll use to write the recommendation.
I could provide you with a template to make things easier for you, but it'd be excellent if you wrote it yourself.
Cheers to more book cover projects!
Regards,
James
Wrapping up
Asking for recommendations on LinkedIn can enhance your credibility, keep your network informed, and improve your SEO. To get valuable feedback, know whom and when to ask. Follow the guide's steps to request recommendations and customize your message. Notify your connection before requesting and increase the likelihood of a positive response.
Utilize this chance to showcase your skills and attract prospects. Begin asking for LinkedIn recommendations today.
Taplio is the ultimate LinkedIn automation tool that can help you save time and increase your connections and leads. Say hello to more leads and business opportunities with Taplio.
Try it out today!