https://ondemand.bannerbear.com/simpleurl/eN6mLGkQNNed9zbP2O/image/title/text/10%20Lesser-Known%20LinkedIn%20Features%20to%20Boost%20Your%20Productivity
Unlocking the Power of LinkedIn: Discover the Lesser-Known Features That Can Supercharge Your Networking and Productivity
LinkedIn Features: 10 Lesser-Known Features To Boost your Productivity
LinkedIn has introduced some cool features for creators based on the changing trends in marketing, communication, and the changing needs of users. Most of these features focus on helping you save time, drive your goals, and expand your network.
Many LinkedIn users are unaware of some of the lesser-known LinkedIn features that can help them use the platform more effectively. Excited? Let's take a deep dive to explore some of these features that you may not know about.
LinkedIn Features You Should Be Using
From letting people know how to pronounce your name correctly to exporting your connections easily, here are 10 LinkedIn features you should be using to improve your workflow and expand your network.
1. Export Your Connections
One of the features on LinkedIn that most users don't know about is the export function. If you want to create a newsletter or mailing list, you can export all your connections in a simple Excel file for easy access. Other than the list of your contacts, you'll get access to their company, position, and email.
Here's how to export all your connections:
Click "Me" on your homepage.
Click "Settings & Privacy" from the drop-down menu.
Click "Data Privacy" from the menu on the left.
Click "Get a copy of your data."
Select the data file you are interested in.
Select "Connections" if you want to export data about your connections.
Click "Request."
Once your download is ready, you'll receive an email with the data.
2. Customized Notifications
Don't let your day get derailed with multiple notifications from LinkedIn. There are several ways you can set your notification preferences so you can see updates from your connections when and where you want to see them.
Here are a few customization options available for notifications:
Mute and Unmute- Mute notifications if you don't want to receive updates from a post you are tagged in. You can choose to unmute any time you want if you change your mind.
Turn Off- You can choose which types of notifications to receive. If you don't want to receive notifications such as birthday updates, you can easily turn them off. You can reverse the settings from the notifications tab at any time.
Unfollow- If you don't want to receive updates from a connection, you can unfollow them to stop seeing their activity in your feed. Those you unfollow will not know that you chose to stop receiving updates from them.
You can also adjust the notifications for your own activity. If you don't want your connections to be alerted about work anniversaries, new jobs, or other profile changes, click on "Visibility" in your settings and then "Share profile updates with your network." Toggle on or off based on your preferences.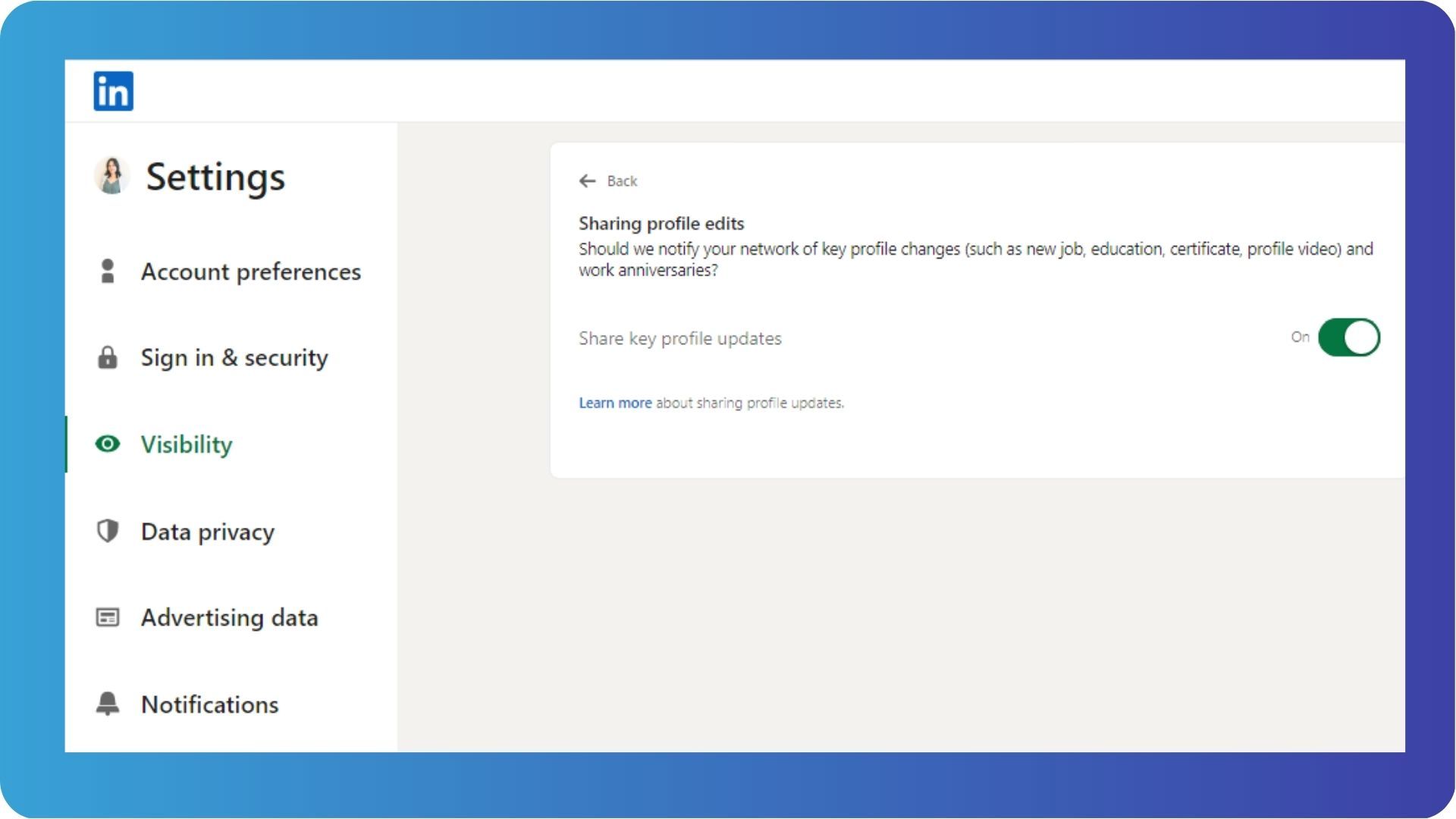 3. Hide Your Identity Before You View Profiles
One of LinkedIn's best features is the ability to see who visited your profile. It is also one of the most frustrating features when you want to dig into other profiles but want to maintain your anonymity.
It is possible to hide your name or other identifying details when you visit someone's profile. Here's how to do it:
Click "Settings & Privacy" under the "Me" drop-down menu.
Click "Visibility" and then "Profile viewing options."
Select "Private mode" or "Private profile characteristics."
4. Record the Pronunciation of Your Name
When you are connecting with people from different geographical locations, it is easy for others to mispronounce your name. An easy way to
grow your LinkedIn network
and make it easier for people to connect with you is by showing them how to pronounce your name.
A cool LinkedIn feature that makes the platform more inclusive is the ability to record the pronunciation of your name. Once you upload a recording, anyone can tap the speaker next to your name to hear that recording.
Another excellent use of this feature is that you can use it to create a great first impression by recording a few words introducing yourself and greeting your connections in 10 seconds. Follow these steps to record your name and your customized greeting:
Head to your profile page.
Click the first edit button.
Click "Add name pronunciation."
Hit the record button to record your name.
Click "Apply."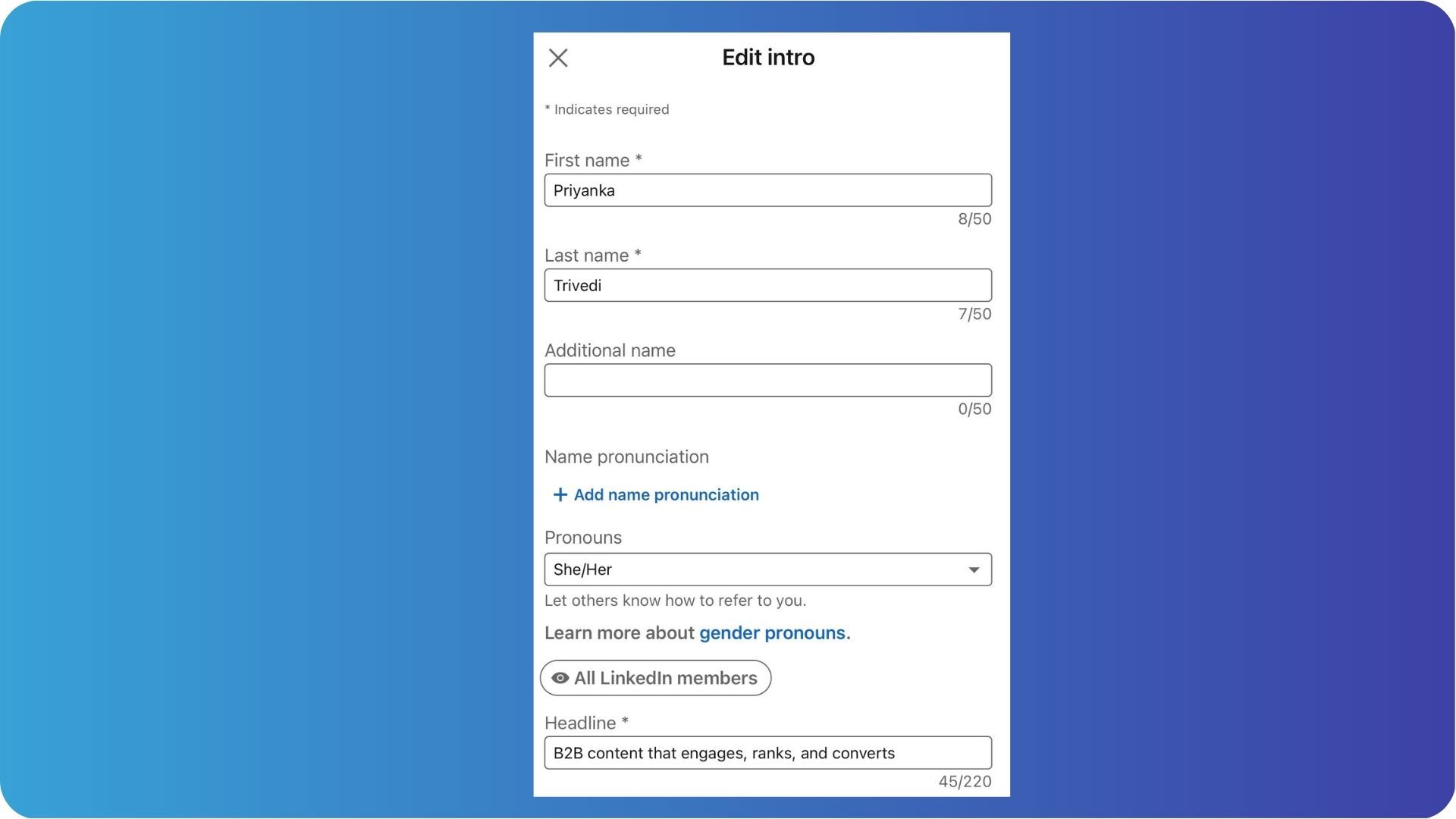 5. Save Your Searches
If you are spending a lot of time searching for content, posts, or jobs on LinkedIn, you can save those searches to revisit them later. The saved items can be accessed under your profile in the "My items" section.
To save content, click the "More" icon.
In the dropdown menu, click "Save."
To access all your saved content, head over to your profile.
Click the "See all resources" button under the Resources section.
Click "My items" to access all your saved items.
You'll be able to see all your saved jobs, articles, and posts in this section.
6. Merge Accounts
If you have multiple LinkedIn accounts with connections in each, it is possible to merge them into one without having to lose any of your connections.
Here are the instructions on how to merge your accounts:
Log in to the LinkedIn account that you wish to keep going forward.
Click "Settings & Privacy" from the dropdown menu under the Me icon.
Select Account Management.
Click Merge accounts.
Enter the details of the duplicate account and hit submit.
You'll have to confirm that you wish to close the duplicate account by clicking "Continue."
Enter the password again and click "Submit."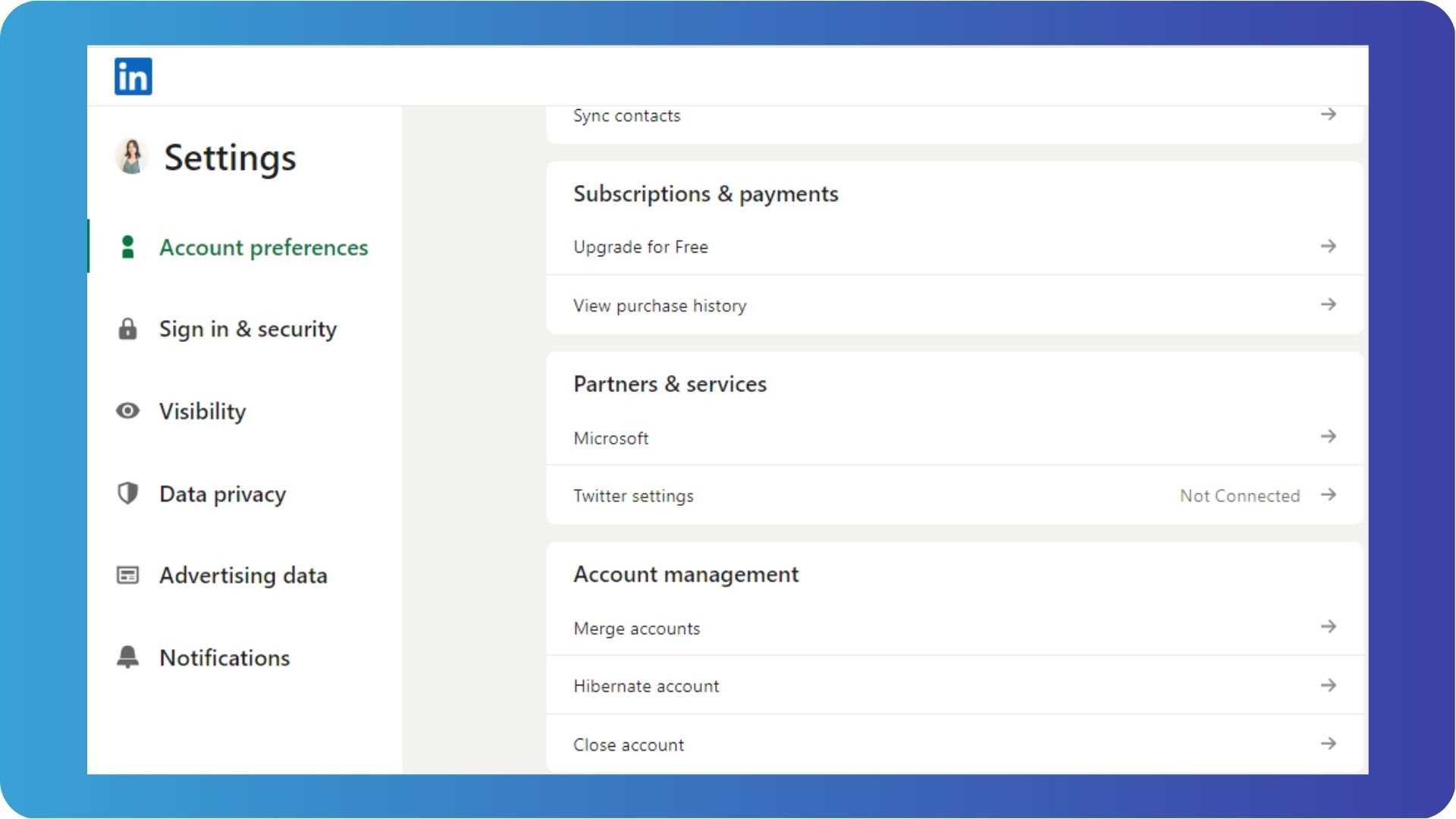 7. LinkedIn Bell
One of the newest LinkedIn features is the bell. Once you turn on the Creator mode, the bell icon automatically appears on your profile next to your profile photo. When other users tap on that bell icon, they'll be subscribed instantly to your content.
This feature can help you
get more connections
and
improve engagement organically,
but it's important to direct your followers by putting a small CTA in each content you post, like "Ring my LinkedIn bell to receive notifications."
This is also a good way to ensure you stay updated with the latest posts of thought leaders in your industry so you can engage with their content.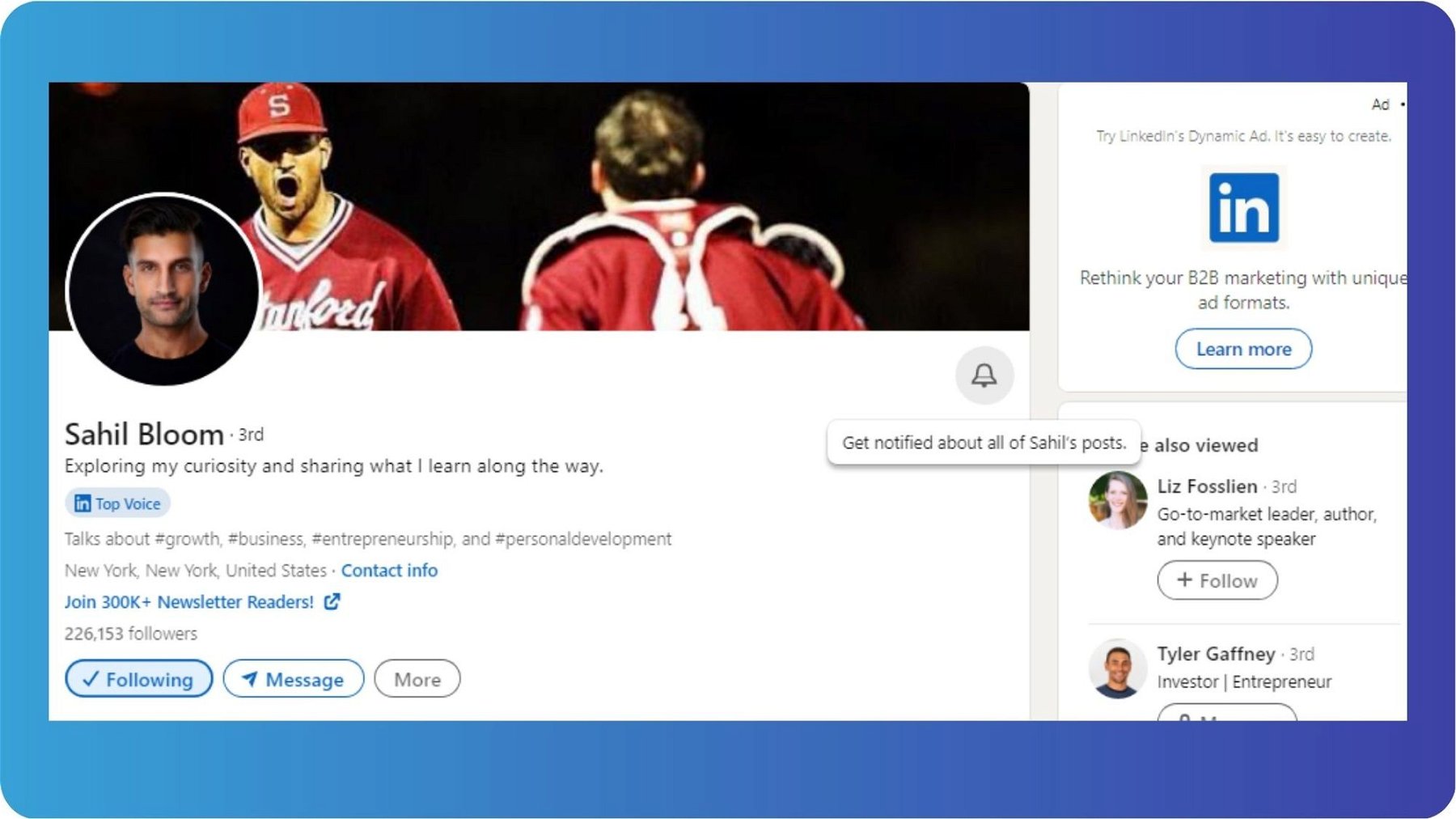 8. Account Targeting
The
account targeting
feature on LinkedIn can be a goldmine for marketers running campaigns. Instead of putting your content out there for a generic crowd, you can use this feature to share content based on your targeted leads.
If you know which potential clients you should be targeting based on their purchase propensity, you can deliver targeted content that provides you with quality leads. Account targeting allows you to target members using attributes like:
This feature also allows you to upload lists of companies or contacts for your marketing efforts and re-target website visitors based on your ad engagement. If you have a deep understanding of your target customer and at which stage of the sale funnel they're currently in, you can create a cohesive
B2B lead generation strategy
with account-based targeting.
9. Hide Connections
Another cool LinkedIn feature that many users don't know about is the ability to hide your connections. You can control how private your connections are within your network.
If you have spent a lot of time nurturing your connections, you don't want others to approach them. Here's how to hide your connections from  your competitors:
Scroll over to your LinkedIn profile and click "Me."
Click "Settings & Privacy" from the dropdown menu.
Click "Visibility" on the menu on the left.
Click "Connections."
Toggle "Connection visibility" to off.
10. LinkedIn Showcase Page
An underutilized feature on LinkedIn is the Showcase Page. This page can serve as an add-on to your company page with tailored templates that will allow you to spotlight your products and services.
You can create multiple showcase pages for a single company page. Each page can feature tailored targeting and messaging for different audience segments. If you are a digital marketing agency, for example, you can create customized templates to showcase your work to audiences in different industries.
Here's how to showcase pages are different from other pages:
Businesses can buy sponsored updates and advertise.
A newspaper-like two-column layout for posts.
Showcase pages link back to your business page to keep everything centralized around your business.
Employee profiles cannot be associated with showcase pages.
No tabs for services, careers, or products.
Bonus- 3 Cool Taplio Features You Should Explore
LinkedIn offers you a lot of excellent features, as seen above. If you want to boost your productivity and growth on the platform even more, explore these three cool features offered by Taplio.
1. Taplio X Chrome Extension
Taplio's Chrome Extension
supercharges your experience on the platform and
boosts your productivity
. Once you install the extension, it will load automatically when you visit LinkedIn on your browser. Here are a few ways the Chrome extension can help:
It allows you to access all your statistics at a glance.
Discover viral posts in your niche.
Find valuable information about other profiles, including their best content.
Find your top-performing posts.
2. LinkedIn Carousel Generator
The
LinkedIn Carousel Generator
feature from Taplio allows you to add Reddit posts or tweets to create polished LinkedIn carousels for impressive engagement.
The feature is easy to use and pretty straightforward. Simply import the slides you want to include in your carousel. These slides can be image URLs, Reddit posts, or tweets. Copy and paste these URLs into the fields and add an image. Click "generate carousel," and you're done.
3. Viral Post Generator
Creating
engaging content for LinkedIn
has never been easier with the
Viral Post Generator
from Taplio. The generator uses AI to write
high-quality LinkedIn posts
. Simply add a topic that you wish to create content about, some inspirational advice for the AI, and select your cringe level.
If you're stuck for ideas, this is a valuable tool that can help you generate a few ideas quickly. Use as-is or make a few tweaks to make it your own.
Taplio
offers you all this and much more to boost your growth on LinkedIn, create better content, and build meaningful relationships on the platform.
Sign up today for free
to see how this all-in-one LinkedIn tool can help you.