Generating high-quality leads is a massive endeavor for B2B brands. Whether you're just starting your personal LinkedIn page or you've been here for a while, having leads can open several sales opportunities for growth and profitability.
Let's explore our Linkedin B2B lead generation course. Here, we'll look into how you can tailor your marketing strategy to drive more leads and conversions.
Let's get started!
What is B2B Lead Generation?
As the first step in any buyer's journey, B2B lead generation revolves around capturing the attention of leads. From here, you can collect information about other brands and use those to close deals with them.
But to get a comprehensive marketing approach, you need to master the art of B2B lead generation on LinkedIn.
Here's how:
Organic lead generation with automation
Organic lead generation with form ads
With these marketing tactics, B2B lead generation can help you start conversations with your target audience, and you can eventually convert them into qualified leads and sales.
Why Should You Take Advantage of It?
B2B brands should take advantage of LinkedIn B2B lead generation. It's a fundamental step toward your growth and success in the future.
With this marketing approach, you will:
Be able to start it quickly;
Afford a less costly lead generation tactic;
Build better brand awareness and visibility; and
How Can You Start B2B Lead Generation on LinkedIn?
So to start your B2B Lead generation on LinkedIn, you need to decide how you want to do it.
These are your options:
Use organic lead generation.
Use automated lead generation.
Use lead generation form ads.
You can use these three lead-generation strategies together. But we suggest mastering one first before starting on the next one.
Here's a closer look at each B2B lead generation tactic:
Get the Basics Right
Before performing B2B Lead Generation, you must master the basics. Many may think this step isn't necessary, but getting it right can impact your long-term visibility and sales.
The basics involve improving your LinkedIn profile and building your page connections.
1 - Work on Your LinkedIn Profile
A great LinkedIn page can attract more prospects. But to get an excellent profile, you must pay attention to a few things.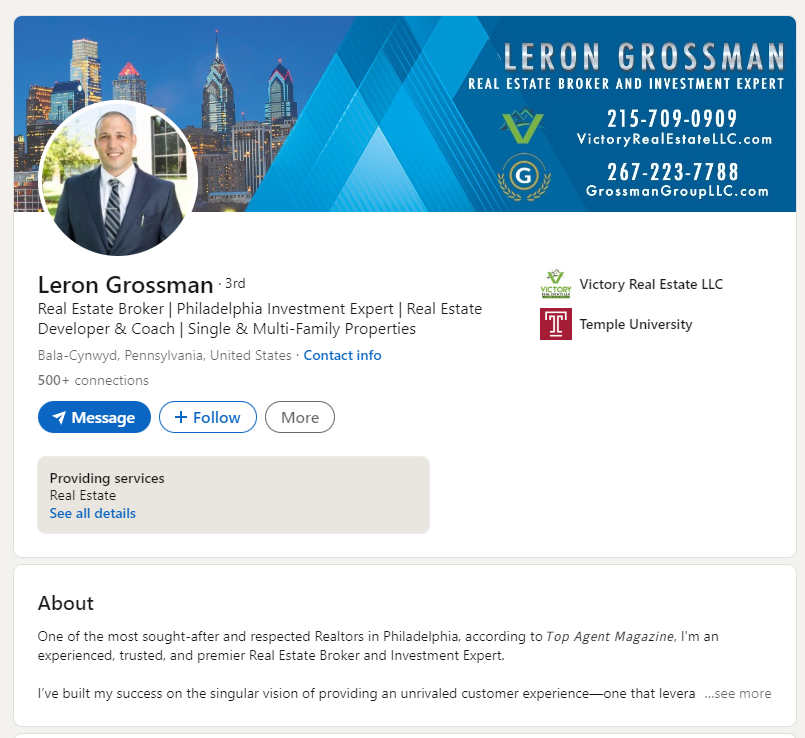 To achieve the best LinkedIn page for your B2B page, follow these tips:
Choose a professional profile photo and banner for your profile
Add industry Keywords to rank higher on search results
2 - Grow Your Network
Besides creating a strong LinkedIn profile, you must also grow your connections. Having many followers boost your visibility and help you market your brand.
Organic Lead Generation
With Organic Lead Generation, you get the attention of your potential customer via posting content on LinkedIn. It's called organic because you use the reach of your profile.
The reach of a profile is based on how many followers or connections it has and how active you are on the platform.
It's the best option when you just got started with your brand and didn't want to invest money into it.
You can start by simply posting and engaging with others in your niche.
The goal is that your audience knows that you are the expert on your specific topic and that they come to you when they have a problem or need your services.
Automated Lead Generation
You can supplement your organic lead generation strategy with automated lead generation. With it, you can maintain an active LinkedIn page for your brand.
The key ingredient to keeping the engagement of your followers is by releasing regular posts and sparking conversations with them.
It can inspire you to write better content, schedule them on regular time intervals, and connect with prospects without micromanaging your page.
But compared to organic lead generation, automated lead generation requires you to invest money in a third-party tool.
Yet you can save a ton of time by automating repetitive and vital tasks on your page.
Lead Generation Form Ads
Lead generation form ads capture the attention of potential buyers on LinkedIn through the use of interactive ads. It uses forms to collect customer information like names or contact numbers.
Interested users click on your ads and get directed to your customized form.
You can easily target your interested audience through lead generation from ads and analyze their shopping behaviors and patterns.
But unlike organic lead generation, you'd have to spend money on every click here with lead generation from ads.