https://ondemand.bannerbear.com/simpleurl/eN6mLGkQNNed9zbP2O/image/title/text/LinkedIn%20for%20Startups:%209%20tips%20for%20Market%20Research
Supercharge your startup's market research on LinkedIn: do effective market research and make informed decisions for your startup.
LinkedIn for Startups: 9 tips for Market Research
Regardless of the size of your new business, without knowing how to do market research for a startup, you won't be able to make effective decisions.
LinkedIn is one of the most powerful platforms for market research that is still surprisingly underused, despite being used by millions of entrepreneurs. The tricky part is figuring out how to use it.
In this blog post, we'll show you the exact tools you need and some incredible tips on using LinkedIn for your startup's market research.
Take your startup to the next level with Taplio! Unlock the full potential of LinkedIn and gain a competitive edge.
Sign up now
and revolutionize your decision-making process.
Why Use LinkedIn to Do Market Research?
LinkedIn can provide you access to a wide range of comprehensive data that can be used for market research. Some of the information you can source from LinkedIn can be:
Demographic information such as location, industry, and role.
New and untapped audience segments.
An audience that matches your ICP (Ideal Customer Profile).
What users and prospects are saying about your brand, services, and products.
Having all this data easily accessible in one place is one of the main reasons why LinkedIn is a powerful tool to include in market research for your startup.
3 LinkedIn Features You Should Use for Market Research
LinkedIn has three powerful tools that can be leveraged to uncover insightful data to help you make better decisions as an entrepreneur.
Group Discussions
If you haven't already been a part of Discussion Groups on LinkedIn, it may be time for you to look into it. These exclusive groups can provide you with the perfect space by initiating discussions and floating out ideas to get feedback.
Group Discussions are also a good place to generate ideas that you can explore and implement.
Polls
Use polls to ask questions and generate responses to understand any aspect of your business better. Polls can be posted within discussion groups or on your profile as a post. Simply ask a question, post a poll, and you can expect there will be plenty of responses and comments.
Audience Insights
LinkedIn analytics
allows you to understand if you are attracting your ideal customers. It can also help you identify
untapped audience segments
that you can pursue. Some of the insights you can glean from analytics include visitor analytics and follower analytics.
9 Tips on How to Do Market Research for Startups
The time you spend on LinkedIn can help you do several different things at once. Other than building your network and
lead generation
, you can also effectively generate market research for your startup to
supercharge your experience on the platform
. Here are nine tips to help you get started.
Connect with Industry Veterans
Industry veterans can be a goldmine of valuable information. Invest time to build your network so you can connect with veterans and ask them questions directly.
Learn from some of the best minds in the industry. If you can find someone who will be willing to be a mentor, it would be ideal.
Tap into Your Network
If you have a large network on your platform, chances are there will be a wide variety of industry experts and professionals in your network. An easy way to do market research for a startup is by simply asking people in your network a question.
The beauty of LinkedIn is that your network can easily give you the details you need to point you to someone who may have that information.
Company Page Audience Insights
You may already have an ICP to guide your marketing efforts. But the visitors you are attracting to your company page may not align with that ICP. LinkedIn analytics can help you gain insights to see who is following your company and engaging with your content.
The analytics section offers you a look into your visitors and followers. You can compare metrics for different time periods to spot trends. Look for follower data such as demographics and unusual activity patterns. You can also better understand how paid and organic activity affect your growth on LinkedIn.
Review Analytics
Other than audience insights, you can also use analytics to see what topics and content resonates with your target customers. Track the performance of your past posts and find your most popular posts based on metrics such as impressions and engagement.
LinkedIn also offers demographics for unique visitors so you can find more information, such as job titles, company, location, industry, and company size of your audience. This information is particularly helpful for account-based marketing.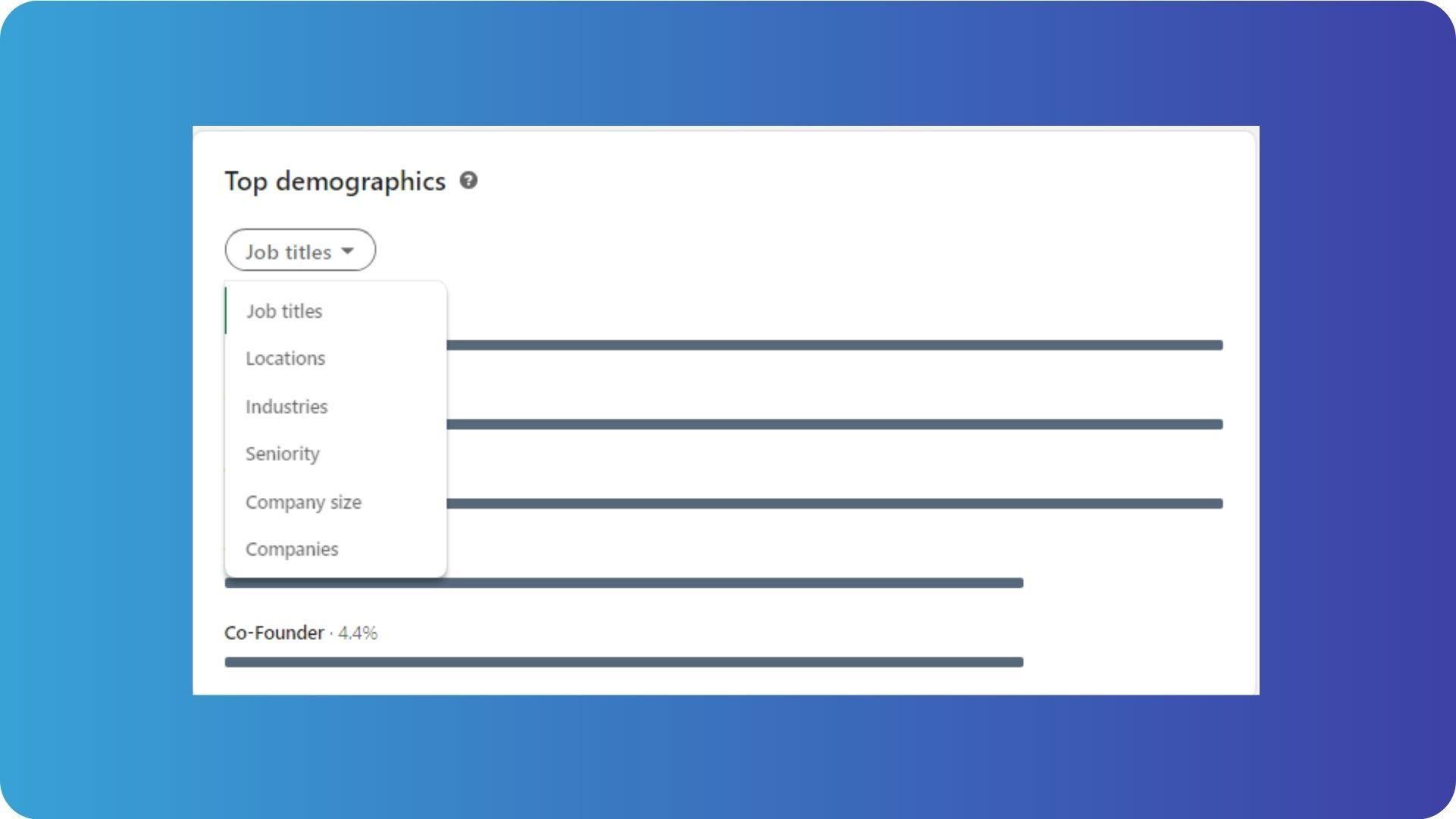 Find Relevant Competitor Information
One of the main benefits of learning how to do market research for a startup on LinkedIn is that it will help you find relevant competitor information. You can find specific information about your competitors on LinkedIn, such as their activity and performance.
If you want a clear view of how well you are addressing the needs of your target customers in comparison to your competitors. If you have a company page on LinkedIn, you can add pages to your competitor analytics. Here are some of the metrics you can track:
Follower metrics to gauge new and all-time followers within a time range.
Organic content metrics within a time range.
Trending competitor posts to see the top posts created by your competitors.
Another way to find trending competitor posts is by installing
Taplio X Chrome Extension
. Once you have installed the extension, visit LinkedIn from your browser and head to a competitor profile. Taplio X will display the top posts from your competitor.
Gather Information from LinkedIn Posts
Thousands of
LinkedIn posts
and an equal number of articles are posted on the platform every day. Chances are, someone has written about the market and topic you are looking for.
Use the search feature on LinkedIn to access this information. Browse through the articles and posts to gather the needed data and market information. All you need to do then is to compile this data.
Get Access to White Papers
White papers contain industry data and trends that can prove valuable when doing market research for your startup. Many companies post their white papers on the platform.
In most cases, you will be able to down the white paper simply by filling out a form and providing your contact details and name. Instead of spending hours trying to find white papers relevant to your industry all over the internet, you can find them in one place.
Join the Right Groups
LinkedIn has dedicated groups in all industries where professionals with similar interests come together. Members share industry developments, trends, and insights.
Join the right
LinkedIn groups
to be a part of discussions or start a discussion of your own to get access to valuable information from other professionals.
Analyze Hashtags
Hashtags are not utilized as much on LinkedIn as they are on other social media platforms. But they're still a useful tool for market research.
Make a list of relevant hashtags in your industry that tend to get a lot of traction. Scroll through and review the content. Repeat once a month or more to stay updated on recent activity in that hashtag. Analyze hashtags related to your industry, business, or competitors. Put all the information in a chart so the data will be ready to use.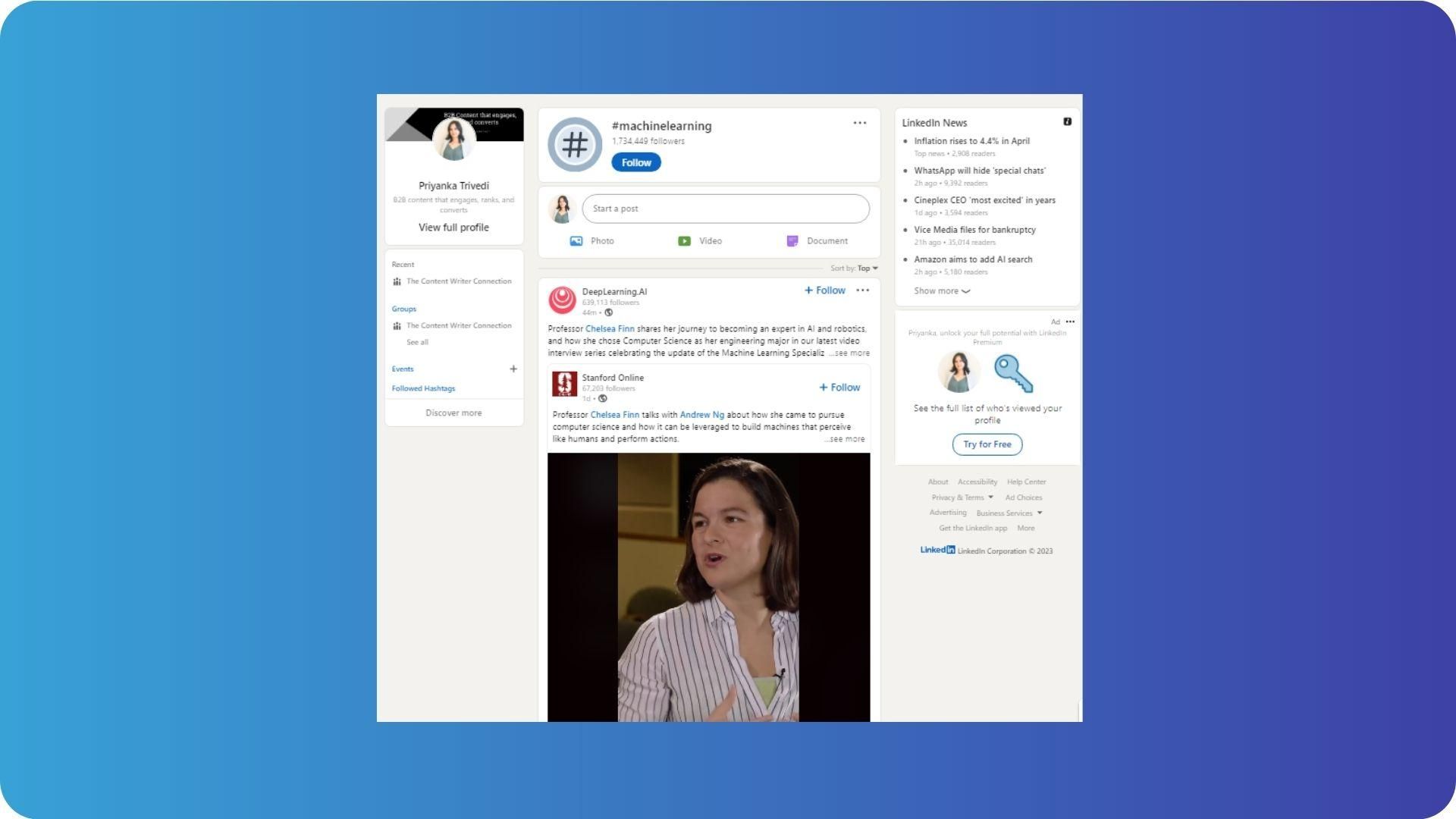 Not all of your target audience is on LinkedIn, so the data you generate on LinkedIn will be limited. Still, learning how to do market research for a startup on LinkedIn is worth it because it can provide you with a valuable glimpse into segments that matter to your business.
Ready to supercharge your startup's market research? Discover the power of Taplio and unlock valuable insights on LinkedIn. Get started today and make informed decisions for your business.
Try Taplio now!