https://ondemand.bannerbear.com/simpleurl/eN6mLGkQNNed9zbP2O/image/title/text/LinkedIn%20CRM:%204%20Effective%20Solutions%20to%20Boost%20Your%20Lead%20Generation%20Efforts
Unlock Your Lead Potential with a Dedicated LinkedIn CRM Solution - Learn 4 Proven Methods
LinkedIn CRM: 4 Effective Solutions to Boost Your Lead Generation Efforts
Keeping the sales pipeline filled with high-quality leads is the top priority for any marketing professional. You no longer need to make hundreds of calls a day to do that. LinkedIn is a powerful
B2B lead generation
source if you manage to gain visibility and position yourself as a credible voice in your niche.
With a dedicated LinkedIn CRM solution, you can find those who are interested in your services, nurture them through efficient follow-ups, and keep them engaged.
In this article, we'll explore four different ways to turn your LinkedIn network and engagement into a lead pipeline using a dedicated LinkedIn CRM solution.
To achieve this, we will show you how to do this with the following tools:
These tools will help you find those who are interested in your services, nurture them through efficient follow-ups, and keep them engaged, allowing you to keep your sales pipeline filled with high-quality leads without the need to make hundreds of calls a day.
Convert post interactions into leads. Import LinkedIn accounts based on likes and replies. Build lists of interested prospects
with Taplio
.
Taplio as an Effective CRM System
If you don't have as much time on hand to spend on manual data entry and want something
simple, quick, but effective
, use
Taplio
as a CRM system for LinkedIn. Getting started is easy, and in six steps, you'll be on your way to streamlining your sales process.
Create a List of Potential Leads on LinkedIn
As discussed above, you'll need to start with a list of potential leads to add to Taplio. There are several different options you have at this stage. You can import your connections from LinkedIn, import a list of people that like or comment on your post, or import accounts that interacted with a specific post, even if the post is by someone else.
Add Your Target Audience as Contacts on Taplio
The Contacts section on Taplio is where you'll be able to add your target audience to a specific list.
Click Contacts on Taplio's dashboard.
Add an account URL or the URL of a post.
All your contacts will now be displayed in a single list.
Add Notes for Each Contact
Once your contacts have been imported, you'll be able to add personal notes to each of your contacts so you can keep track of relevant information in one place.
Click the name of the contact.
Click "Create my first note."
Continue to update this section each time you engage or get a response from your contact.
Send an Icebreaker DM
An Icebreaker DM is the first direct message you'll send to your prospect. The Icebreaker DM can be an incredibly useful tool to get the attention of your prospect and encourage them to reply.
Taplio has the ability to generate a unique Icebreaker DM for each of your prospects automatically.
Go to your contacts list.
Click "Get Icebreaker" for the contact you wish to DM.
Review the DM and make any changes you need.
Send Personalized DMs in Bulk
One of the reasons why Taplio is such an effective LinkedIn CRM system is that it allows you to send DMs in bulk. This can help you save time and streamlines the process. You'll be able to send up to 100 DMs a day as Bulk DMs and Auto DMs.
You'll only be able to send DMs to 1st-degree connections. It is important to remember that spamming is against LinkedIn's policy, so do not use it to send unsolicited messages.
Click "Outreach" in the CRM section on your Taplio dashboard.
Add contacts from a list you've created or people who have liked or commented on your post.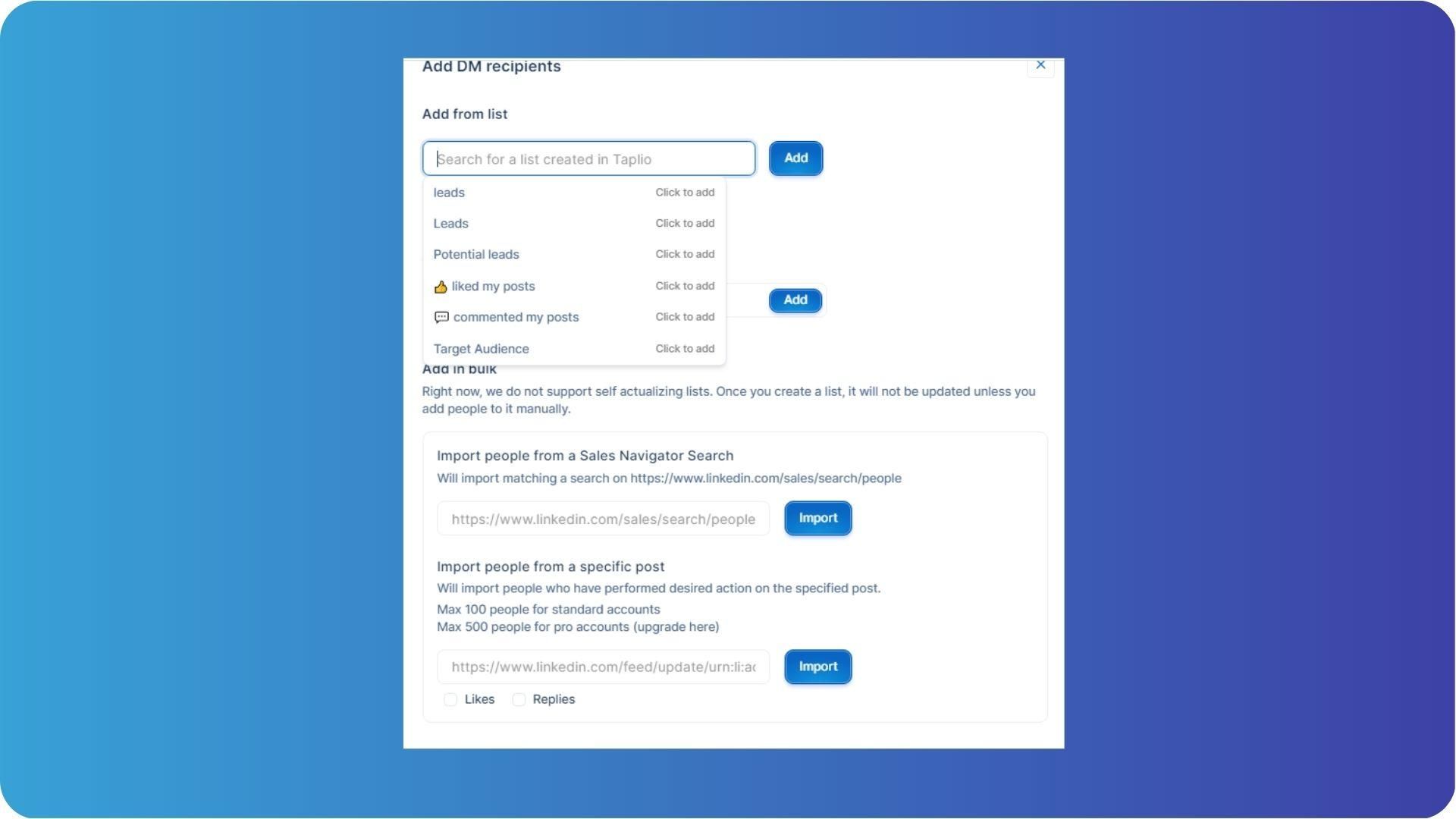 Add your message content.
You can personalize your DM by using: [name], [company], [firstname], [title], etc.
Once you're happy with your message, click "Send DM" or schedule it for later.
Continue to Engage with Your Potential Leads
The key to success on LinkedIn is engaging with others on a daily basis. With Taplio, you don't need to spend hours on LinkedIn to find relevant posts and people to engage with.
The
Engage feature on Taplio
will allow you to reply to comments on your posts quickly to
grow your LinkedIn network
, engage with people in your target audience, and comment on posts that are relevant to your niche.
Click "Engage" in the CRM section of your Taplio dashboard.
Scroll through the posts in the "Best for you" section.
Find a post you want to leave a comment on.
Add your comment and click "Reply."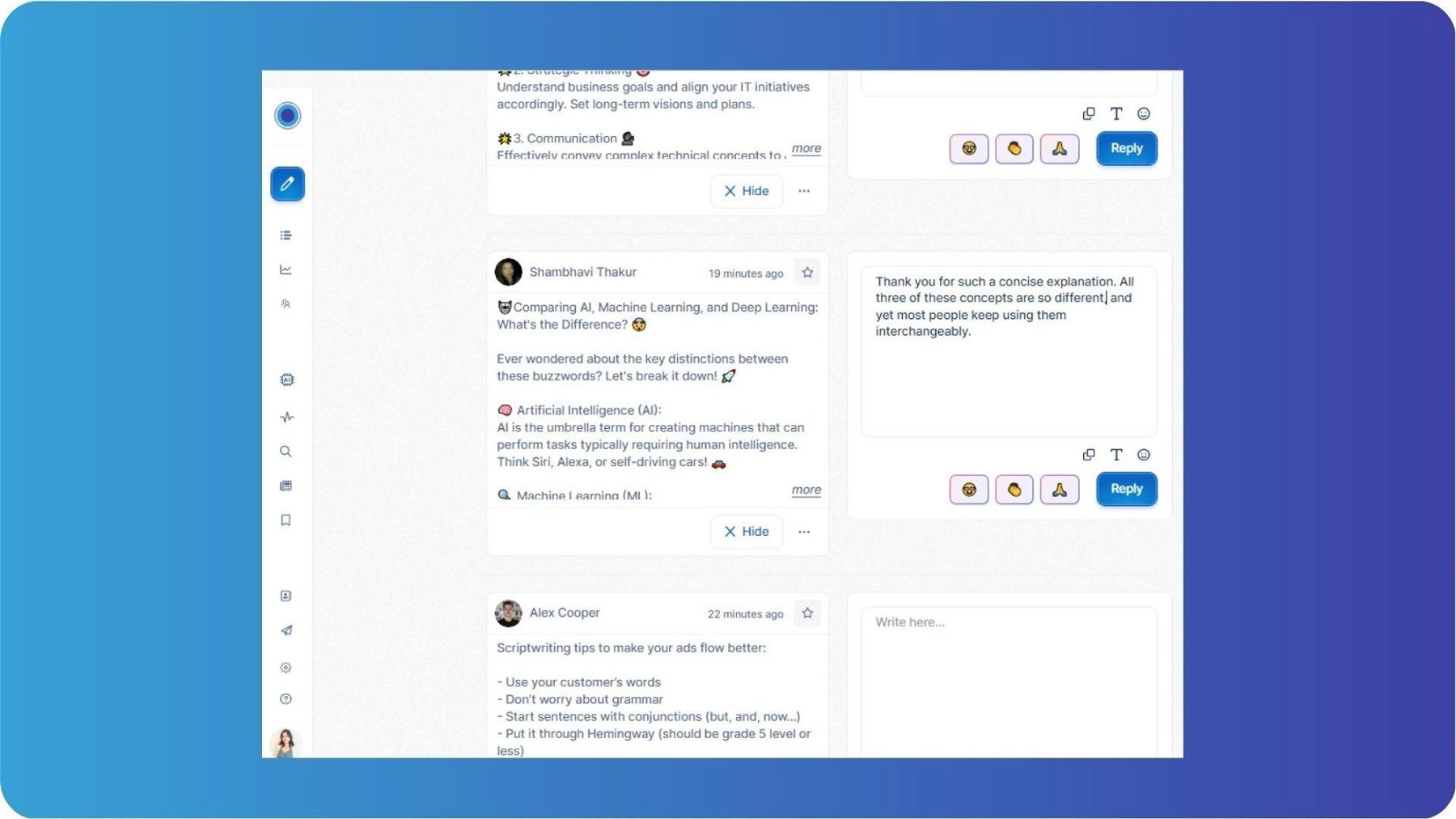 Click "Reply to comments" to reply to any comments on your posts.
Click "People" and select a list you have created in your "Contacts" section.
Reply to posts displayed here to engage with your target audience.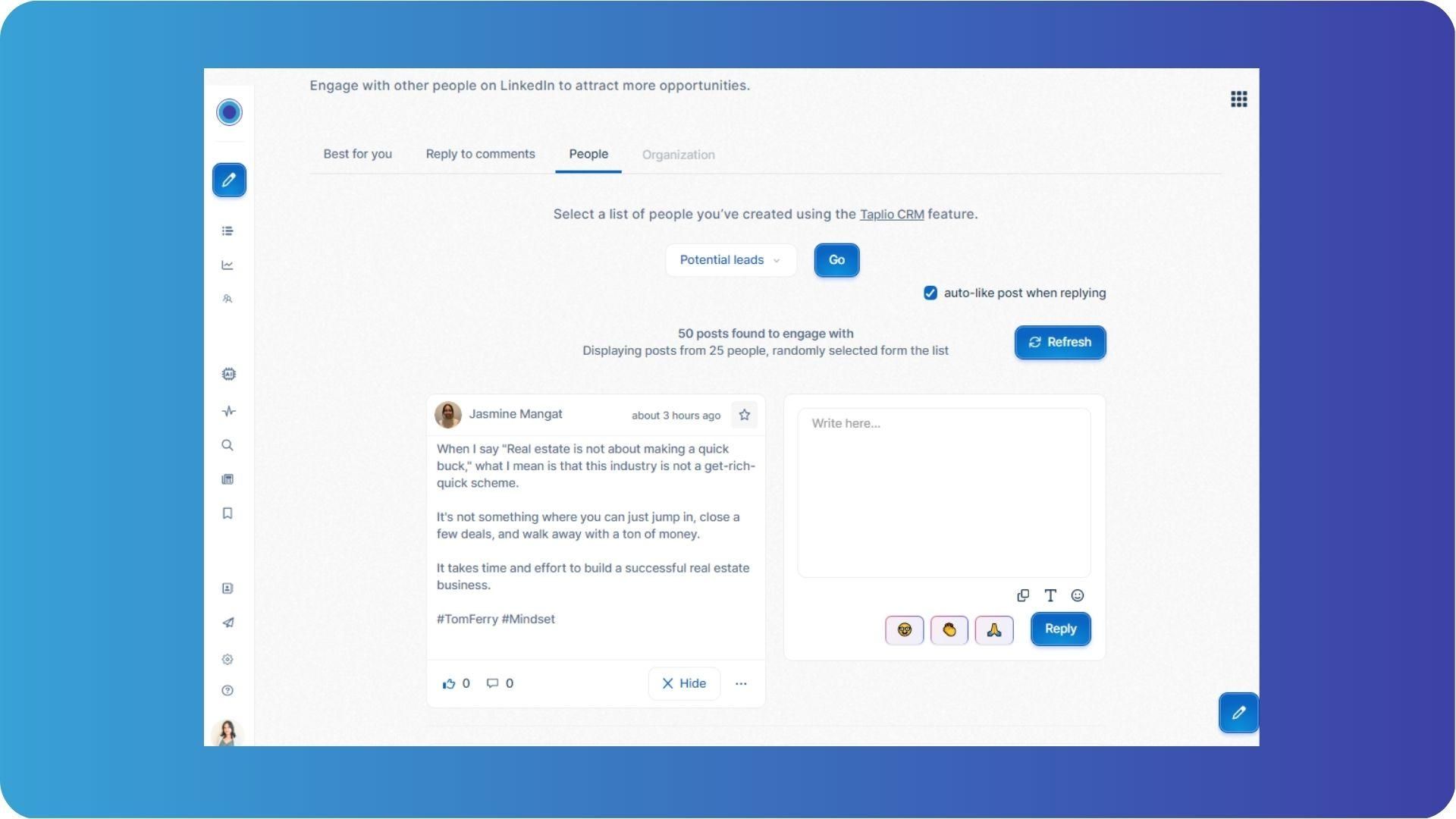 Using Taplio with Lemlist
If you want to take your lead generation efforts to the next level and
book more meetings
, you can set up a dedicated email campaign for your prospects. This is where
Lemlist
comes in. You can push your contacts list to Lemlist and then add an automated email campaign.
Your campaign can include a personalized intro that refers to a post that your contacts engaged with to ensure it resonates with them. You can also create a customized pitch based on that post topic to explore the pain points of your prospects further. Lemlist also has many cold outreach templates to choose from.
Using Taplio with Sales Navigator
If you are using Sales Navigator, you can use Taplio with it to maximize the effectiveness of your LinkedIn CRM. Here are a few things you can do with Sales Navigator and Taplio.
Import People from Sales Navigator Search
LinkedIn Sales Navigator
has advanced search features which makes it
ideal for lead generation
. Use these filters to generate a contacts list based on your target specifics. The Boolean search feature will allow you to narrow down your list with quoted searches.
Once you are happy with your search, copy the link for your search and paste it on Taplio. Head over to your "Contacts" section and click "Create new list" or "Add people" to add people to an existing list. Paste your search link from Sales Navigator and click "Import."
Create and Send Customized InMail Messages
You'll also be able to send bulk
LinkedIn InMail Messages
to your contacts from within Taplio. Click "Engage" and follow the steps listed above for sending "Bulk DMs." Once you've written your message content, click "Use Premium InMails" to send the messages as InMail messages.
With InMails, you'll be able to send messages to prospects without sending them connection requests. This will ensure that your messages are getting read by the right people. Keep the message short, straightforward, and captivating.
Export Leads to a CSV File
Taplio can be integrated with any CRM solution so you can manage all your leads effectively. If you are using a separate CRM system other than Sales Navigator and Taplio, you can easily export your leads to a CSV file.
Select a list from the dropdown menu.
Your file will contain information such as contact name, LinkedIn profile, Bio, Email, Icebreaker DM, Company, Position, and more.
Use Excel as a Free LinkedIn CRM Tool
If you are a solopreneur or have a small team, Excel can be a free and effective CRM for LinkedIn. There are several free Google Sheets and
Excel CRM templates
available to choose from. Here's how to modify them to suit your needs.
Download a Free Excel CRM Template
Once you have found a template that suits your needs, download it. You'll also need to
export your LinkedIn connections
so you'll have the data you need on hand to upload on your CRM template. The export feature on LinkedIn can be found under "Data Privacy" in your "Settings & Privacy" options.
Add Your Contacts and Opportunities
All Excel CRM templates for LinkedIn, or otherwise, will have a section for contacts or opportunities. Find that section to add your LinkedIn connections. Depending on how much information you want for each prospect, you can pick the relevant fields and add your information.
The most important information you'll need to input are:
Email/Contact Information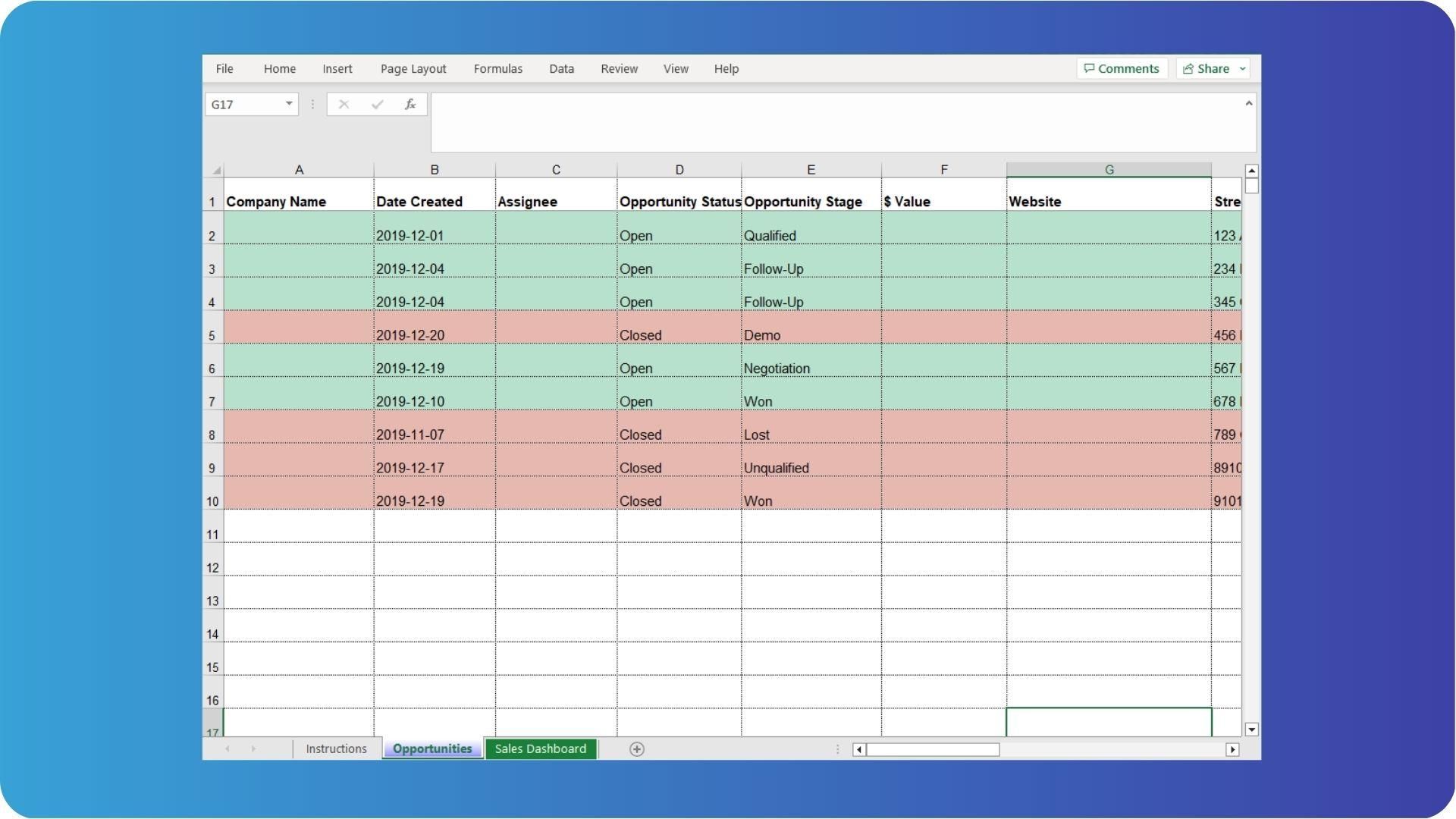 Customize Your Sales Process and Stage
Your sales process may be different, depending on the product or service you are offering and your end goal. You'll have to tweak your LinkedIn CRM Excel template based on it.
Make a list of the steps in your sales process to determine the stages for your prospects. You can also tweak the status of each prospect, so you'll know exactly at what stage your prospect is and their current status.
If your template is customizable, you can change the status and stage to suit your current sales process.
Track Your Communications
A CRM for LinkedIn will only be effective if you use it diligently to track your communications and follow-ups. If your template doesn't already have it, add a field to it to keep track of your initial communication with your prospects, along with follow-ups.
Add dates to the relevant fields so you'll know when you contacted them. Add notes to the notes section so you can quickly refer to any important information about each prospect.
The CRM solution for LinkedIn that you choose should depend on the size of your team, your goals, and how simple or complex your current sales process is. The four solutions discussed above can help you get started on the right track.
Ready to streamline your LinkedIn content creation process? Schedule your posts at blazing speed with Taplio. Our best-in-class post composer and easy-to-use queue system make it simple to manage all of your content.
Try Taplio now!