https://ondemand.bannerbear.com/simpleurl/eN6mLGkQNNed9zbP2O/image/title/text/Unlocking%20the%20Benefits%20of%20LinkedIn%20Outreach%20for%20Marketers
Master LinkedIn Outreach and expand your network. Benefits of personalized outreach, finding qualified leads, and why LinkedIn is more effective than email.
Unlocking the Benefits of LinkedIn Outreach for Marketers
LinkedIn outreach is a crucial skill for any marketer or recruiter to master. Identifying potential clients and reaching out to them through LinkedIn is the most effective way to expand your network and build lasting relationships.
In this guide, we'll talk more about the benefits of using this technique, different ways to do cold outreach and answers to some common questions.
Stop wasting endless hours writing your next LinkedIn post.
Sign up for Taplio today
and start creating amazing content effortlessly!
Understanding LinkedIn Outreach
LinkedIn cold outreach refers to the process of identifying potential clients, sending connection requests and messages to
expand your network
, warming up your leads, and building relationships with them. You can use this strategy to
network with other professionals
in your industry and find potential partners or buyers for your products and services.
The Main Benefits of Doing Outreach on LinkedIn
LinkedIn offers you not just the ability to connect with others and send messages but a host of other benefits. If you regularly use LinkedIn as a part of your outreach strategy, here are a few benefits you can expect.
Better Response Rate
Personalized LinkedIn outreach will always generate a better response rate when compared to other outreach methods. With LinkedIn, you'll have the ability to look at the profile of your target audience and find relevant information that will allow you to personalize your message.
Whether it is a reference about a recent post they shared, or a mutual connection, a personalized message will increase your reply rate.
Qualified Leads
LinkedIn is home to professionals from every imaginable industry. With the right search filters, you can find qualified leads that will translate into improved sales numbers.
LinkedIn's InMail
ads are capable of delivering
2x more conversions
. With the right cold LinkedIn outreach template, it is possible to find better-quality leads with less effort on your part.
More Effective Than Email
One of the main reasons why LinkedIn is more effective than email is that it provides your prospects the ability to view your profile and get to know you. This provides a human touch to your cold messages, which is not possible with email. The average reply rate for messages on the platform is much higher compared to email.
4 Ways to Do Cold LinkedIn Outreach
LinkedIn offers you multiple ways to reach out to your leads. Here are four ways to do cold outreach on LinkedIn.
Connection Requests
You can send connection requests along with a personalized message to your 2nd and 3rd-degree connections on LinkedIn. This will be your first message, so it is best to keep it short and straightforward. You can talk about a mutual connection or something that you have in common with them.
Direct Messages
Once you are connected with someone, you can send them a direct message. This is where you start your LinkedIn outreach efforts. The DM will be delivered straight to their inbox, along with a notification. It can be much longer when compared to the message you send with a connection request.
Message Requests
If you are part of a LinkedIn group or are participating in a LinkedIn event, you can send a message request to those who are in the same group or event. The message you send them will land in their inbox in the "Other" section.
This is a great way to connect with others in the same industry without having to send a connection request. Once you build a relationship with them, you can send a connection request.
LinkedIn InMail
LinkedIn InMail is available with a
Sales Navigator
account, so it is a
paid feature
. You'll receive a fixed number of InMail credits each month, so you'll have to be strategic about how you use these. InMail allows you to send DMs to those you are not connected with. If there are prospects that don't usually accept connection requests, InMail can be a good way of sliding into their inbox and getting their attention.
How to Do Outreach on LinkedIn
Here's how to do LinkedIn Outreach in a few easy steps:
Optimize your LinkedIn profile.
Define your buyer persona.
Use LinkedIn Boolean search to find leads.
Find leads with Sales Navigator.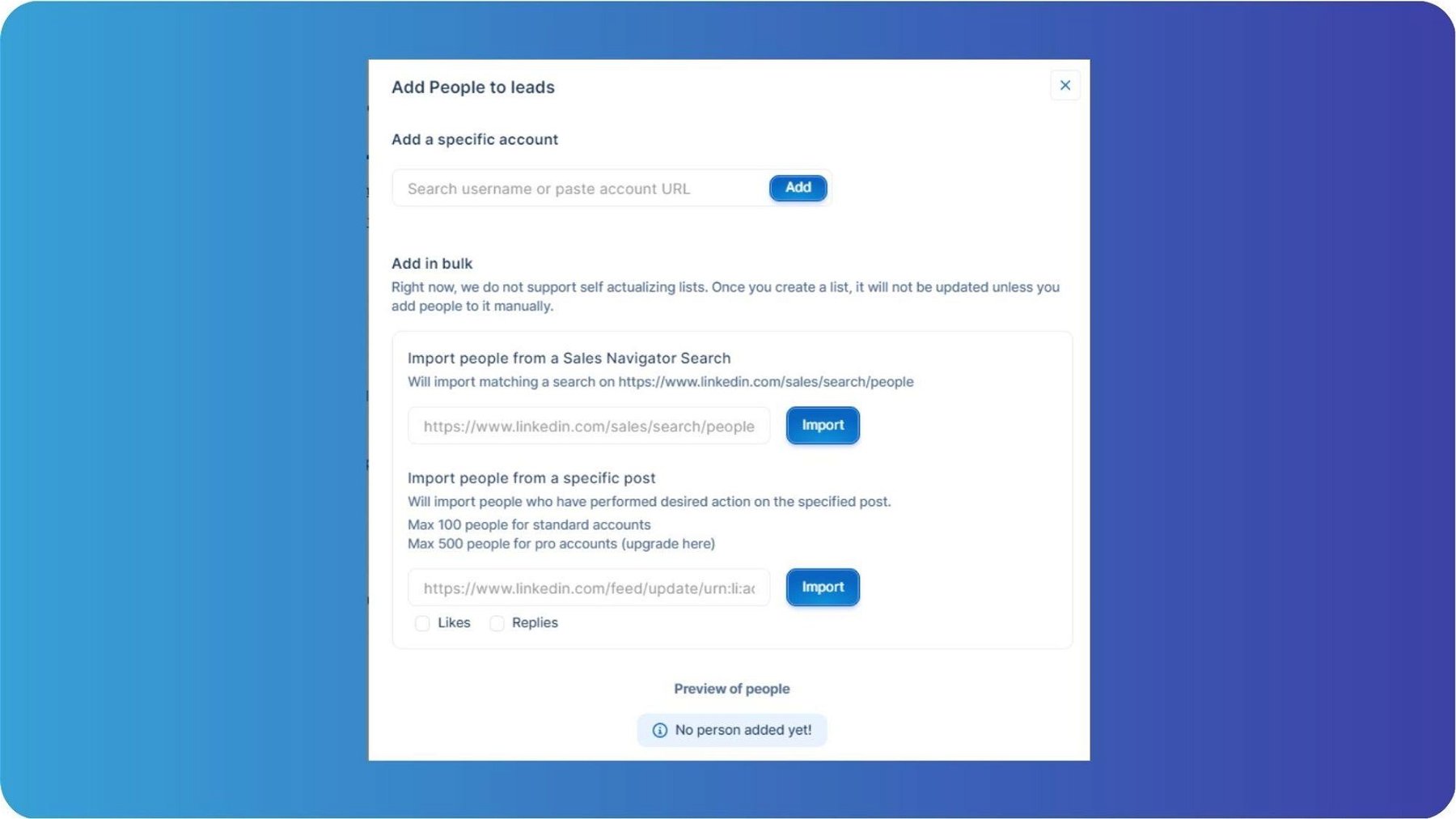 Craft a personalized LinkedIn outreach message.
Send an icebreaker DM or bulk DMs through Taplio.
Follow up and nurture your leads.
Track the effectiveness of your outreach strategy.
FAQs
LinkedIn or Email Outreach - which one is better?
LinkedIn is more effective when compared to email outreach because it allows your leads to connect with you on a personal level. Your prospects will be able to view your profile and look at your face, making them more likely to respond. Cold emails are often perceived to be spammy and distant.
Is LinkedIn a Good Place to Find Leads?
LinkedIn has many filtering options that allow you to find your ideal prospect based on industry, company size, and more. This allows you to narrow down and find high-quality leads easily. With over 900 million members on the platform, LinkedIn has a lot of potential for
lead generation
.
How Many Connections Do You Need to Be Successful?
The number of connections you need on LinkedIn will depend on a lot of factors, such as your niche and what you plan to achieve on the platform. For recruiters, having a larger network is important because it allows them to expand their network and reach more people. For most people, quality connections and genuine relationships are more important.