https://ondemand.bannerbear.com/simpleurl/eN6mLGkQNNed9zbP2O/image/title/text/How%20to%20Find%20What's%20Trending%20on%20LinkedIn%20and%20Capitalize%20on%20It
Unleash the power of trending topics on LinkedIn. Gain valuable insights and optimize your content strategy for increased engagement.
Trending on LinkedIn: Find Trending Topics and Leverage Them
Knowing that the content you post on LinkedIn is useful and getting your followers talking is something all users aspire for. From breaking news to industry developments, topics that are trending on LinkedIn can have a profound impact on the way people interact with you on the platform.
As a LinkedIn user, paying close attention to what's trending on LinkedIn and if it is important for your audience can provide you with powerful insights. Use these insights to inform your future LinkedIn content strategy to ensure that your
personal brand
is better positioned to leverage new trends. In this guide, we'll talk about what trending topics are, how to find them, and how to use them effectively.
Taplio's AI-powered
LinkedIn Trends tool
: Your key to unlocking viral content. Create captivating posts based on what's currently trending.
What is a Trending Topic on LinkedIn?
Trending topics on LinkedIn are the topics that users are currently talking about. Whether a topic trends on not depends on a number of factors, such as breaking news stories, trending hashtags, and engagement. Every user's feed is personalized and will include relevant trending topics based on their interests and profile.
How to Find What's Trending on LinkedIn?
You can find what's trending on LinkedIn from within the platform and through Taplio's free LinkedIn trends feature.
LinkedIn News
LinkedIn's team of editors delivers insights, trends, and news that are currently trending on the platform. The Daily Rundown is a feature that delivers professional news each day. If you have the mobile app, you can turn on the notification to receive it each morning.
You can also browse through the Editor's Picks that show you comments and posts that are labeled as the most relevant for a particular story. You can repost these or comment on these posts to gain more visibility and engagement.
Taplio's Top LinkedIn Trends Feature
The
LinkedIn Trends tool
is a free tool from Taplio that provides you insight into the
topics that are currently over-performing
. Taplio uses powerful AI to generate this list by analyzing millions of LinkedIn posts every day to find topics that are currently trending. Browse through the list or search for trending posts in a specific niche. You'll find the best posts posted on LinkedIn on these trending topics so you can engage with them. You can also create content based on these topics to leverage them.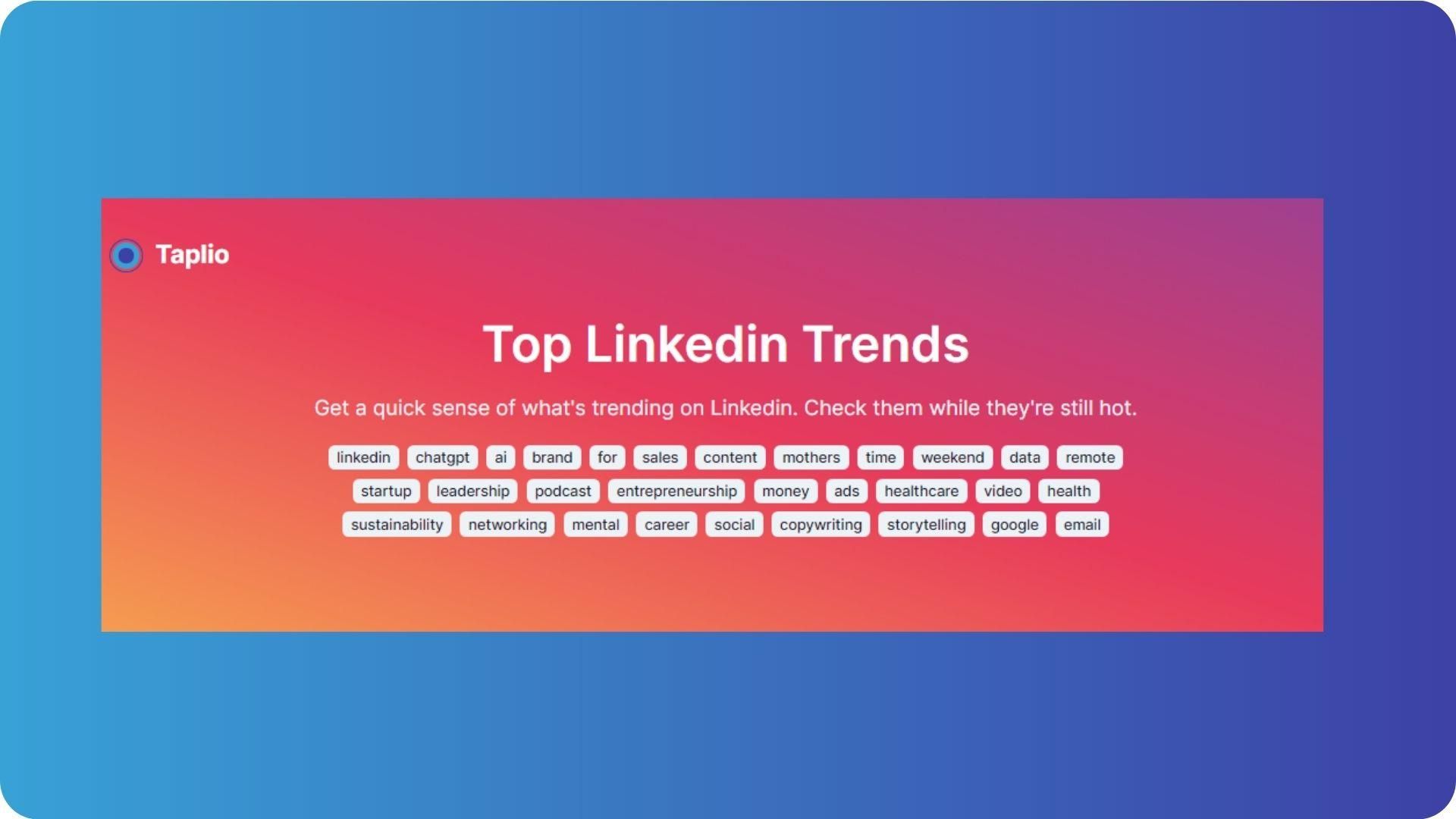 How You Can Leverage What's Trending on LinkedIn
Anyone can see what's trending on LinkedIn, but if you want to
grow your following
and create new opportunities, you need to
take a proactive approach
. Analyze what is currently trending on LinkedIn and use these tips to start leveraging them to ensure that your LinkedIn account is working for you and your business.
Look for Trends Localized to Your Region
Although you'll find trends from around the world, not all of them will be relevant to you or your audience. Some of these big trends may also be saturated, so you'll need to narrow your focus on trends that are localized to your region.
Look for trending topics that are relevant to local people and drill down to find phrases and words that are used in your locality. Interact with the popular accounts that are based in your area and talk about things that mean something to the people around you.
For example, if you are based in Canada and the big buzz locally is bad loans affecting Canadian banks and the economic uncertainty that comes along with it, look for the top posts on LinkedIn that talk about this topic and interact with them.
Use Trends for Keyword Research
LinkedIn trending topics not only provide you with an idea about the biggest stories in the world but can also be a great way to find hashtags and keywords that are used most often. Understanding the phrases and words that are used around these trending topics is just as important. This insight will help you create quality content that aligns tonally with your target audience.
This data can also be used to shape your wider keyword research strategy for SEO. Although going viral on LinkedIn is not as easy as simply using a few popular hashtags and keywords, it does help get your post in front of a larger audience.
Join the Conversation
Although it's tempting to hit every viral trend you can find, this strategy can backfire. Join the conversation only if the trends are relevant to your niche and your personal brand. For example, if you are a copywriter, look for the top LinkedIn trends in the copywriting industry and engage with the popular posts in that niche. Be authentic and natural in your approach.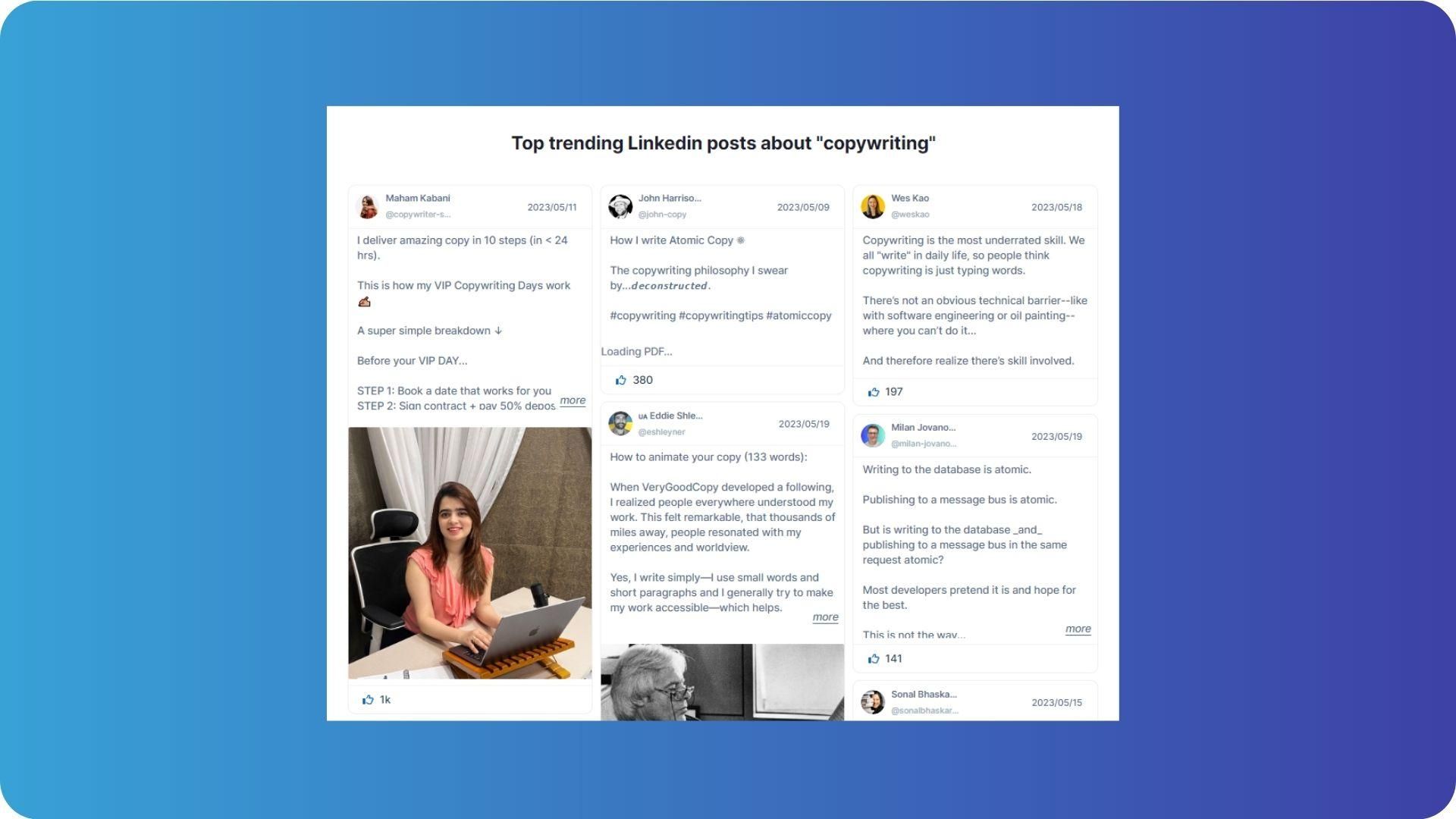 Create Content Based on What's Trending
Another great way to leverage what's trending on LinkedIn is by creating content that users on the platform will be interested in. Look up the current trends in your niche on Taplio to get an idea about what topics to write about. You can then use Taplio to
write LinkedIn posts that people will share
.
Don't Jump on the Bandwagon if It Isn't Relevant
One of the biggest mistakes LinkedIn users make is jumping on the latest trends and making superficial posts on them just to be a part of the conversation. Eventually, your audience will catch on and will be fatigued by the insincere posts. If you really want to
build a personal brand on LinkedIn
, you'll need to ensure that you are using these trends in a genuine way.
Before you start searching for trending topics and creating posts, turn your attention to the people in your network and your prospects. Think about events that are currently affecting them the most, the impact an event has on them, and how you may be able to bring something valuable to the conversation. This is one of the best ways to gain a powerful foothold in a trend and provide a unique perspective on the topic.
Using a
LinkedIn growth tool like Taplio
can boost your growth on the platform. Gain valuable insights, such as trending topics in your niche on Taplio, and then use the powerful content creation and scheduling features to create engaging meaningful posts.
Sign up today
to start building a personal brand and attracting opportunities on LinkedIn.