https://ondemand.bannerbear.com/simpleurl/eN6mLGkQNNed9zbP2O/image/title/text/Maximize%20Your%20Leads:%20LinkedIn%20Lead%20Generation%20Strategy
Learn how to create effective lead-gen funnels for LinkedIn, with tips on building awareness, nurturing leads, and converting them into sales.
Maximize Your Leads: LinkedIn Lead Generation Strategy
Lead funnels help pre-sell your leads, making your LinkedIn lead-generation efforts more effective and profitable.
95% of prospects
are not ready to buy when you approach them first, but their requirements may change in the future.
You'll need to focus equally on finding cold prospects and nurturing your old leads. One of the biggest mistakes marketers make is neglecting one or the other. When used together, these strategies produce remarkable results.
In this post, we'll explore everything you need to know about building lead-gen funnels that result in actual customers and paying clients.
With Taplio, creating LinkedIn content is now easier than ever before. Get access to our AI-powered content inspiration layer, viral post library, and latest news to create a month's worth of content in just one hour.
Try Taplio now!
What Is a Lead Funnel?
A lead funnel is a process through which you build awareness about your company, educate prospects on your offerings, and convert them into a sale. This process starts through
LinkedIn outreach
by engaging with a prospect's post, sending a connection request, and sending a DM.
Each of these events can result in a prospect getting interested in your offerings, thus starting their buyer journey. An effective funnel will nurture those who are hesitant and convert them into a sale through content, product education, and other methods.
But First, Optimize Your Profile
Before we dive into crafting the perfect lead funnel for lead generation on LinkedIn, it's important to
optimize your LinkedIn profile
. The first thing a prospect will often do is visit your profile when you send a cold DM.
Your profile is a crucial element in building trust with these hesitant prospects. They want to learn more about who you are and what you do before they decide to work with you. If they find your profile interesting, they may accept a connection request or reply to your message. They may engage with your content, or they may decide to click away if your profile is not engaging.
Your prospects want to feel in control of their buyer journey, and through your LinkedIn profile and content, you can encourage them to accept further communications. A great profile has the power to turn cold leads into warm leads, so this should be the first step in your funnel-building strategy.
How to Create a LinkedIn Lead Funnel
The goal of your LinkedIn lead funnel is to convert cold leads into warm ones by educating them about your brand and your product. High-quality content that addresses their pain points is the best way to attract these leads.
Using valuable, gated content where they'd be required to provide their contact information to gain access is highly effective. This content could be:
A blueprint or strategy guide
Free consultation session
Take a moment to understand your target market and the right content for their needs. This will ensure that your prospects are highly-relevant and pre-filtered for you. This type of lead funnel is incredibly effective because it helps build trust. Once they've opted-in, you can lead them through your funnel.
Use the Featured Section to Drive Sales
Use
Taplio's
CRM solutions to identify new leads and add them to your contacts list. You can then use the Outreach and Engage features to reach out to potential clients. Interested prospects will either respond to you or check out your LinkedIn profile. This is where you can serve them with gated content on your Featured Section to drive them into your funnel.
The Featured section on your LinkedIn profile is one of the easiest and most effective ways to pre-sell prospects. You can use this section to not only highlight your skills and content but also provide links to external landing pages.
Use this section to your advantage by doing these three things:
Showcase your best, evergreen content that provides valuable information to your prospects. This is what your prospects will see first, so use the most informative pieces here.
Highlight pages that provide more information about your products and services. This could be a link to your product page, an infographic, a usage guide, or anything else that can assist cold leads in taking a plunge and connecting with you.
Provide access to a landing page that will attract the right prospects and help them opt into your lead list.
Building a Landing Page
If you don't already have a landing page, you can easily create one using services such as
Wix
or
Unbounce
.
Here are a few things to keep in mind when creating a landing page for your lead funnel:
Keep the page clean and clutter-free.
Focus on content that gives your prospect some value.
Place the CTA in a prominent place.
Ask your leads to provide, at a minimum, information like their name and email address to get access to the gated content.
Adding the Landing Page to Your Featured Section
Once you have made your landing page, it's time to add it to your Featured section. Here's how to do that:
Head over to your LinkedIn profile.
Click the "+" symbol and then "Add a Link."
Enter the link and write a description.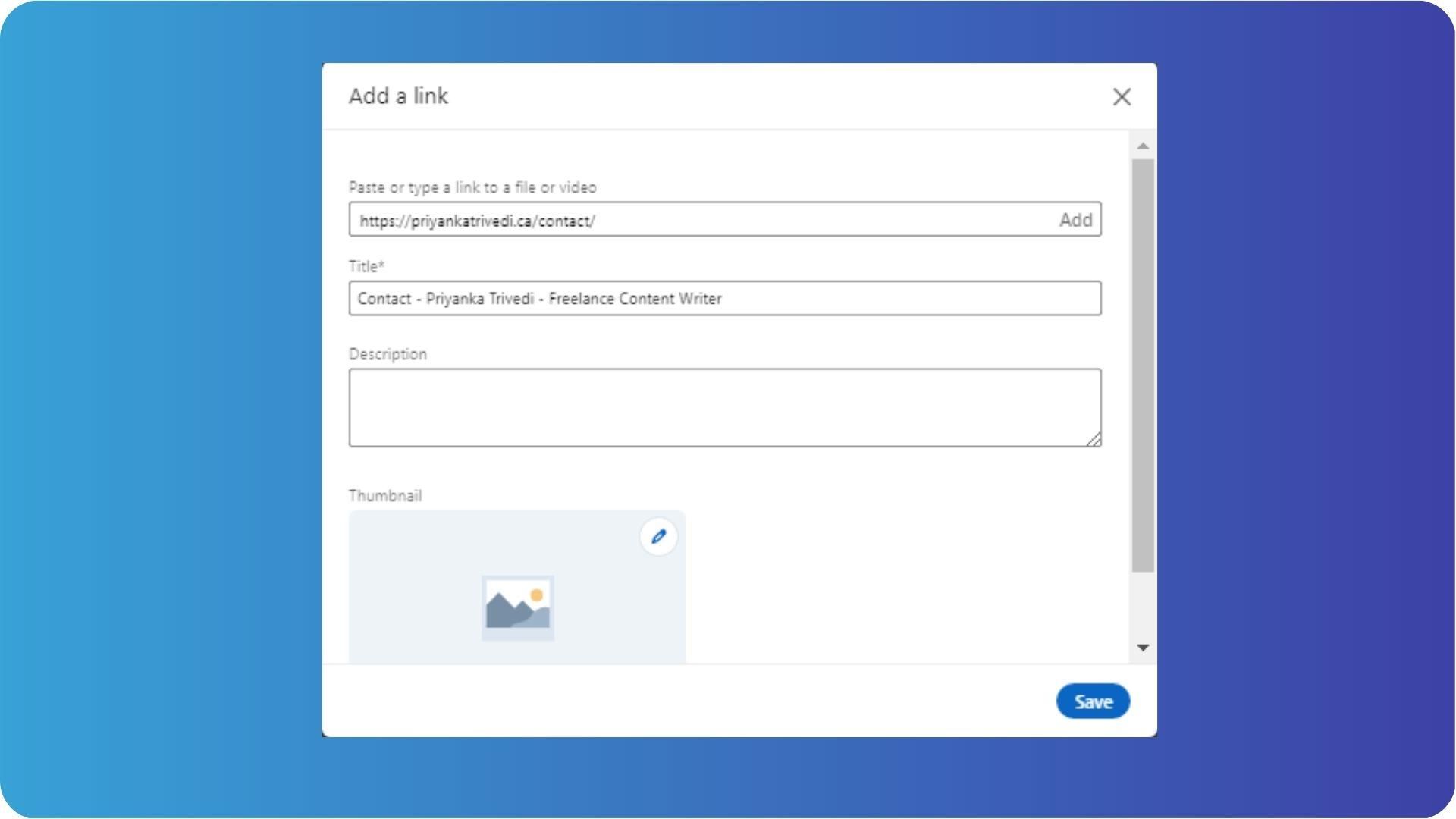 Lead Magnet Funnel Vs. Appointment Setting Funnel
The end goal of your LinkedIn lead generation funnel is to
generate new leads
and boost business. But the way you decide on the exact steps of your customer journey will depend on the nature of your business and the type of funnel you choose to implement.
This will determine what type of ad campaigns, landing pages, and nurturing sequences you should use. The two main types of
B2B lead generation
funnels are:
Lead Magnet Funnels
These are relatively simple but effective because they offer something of value to your prospects to grab their attention. As we discussed above, your lead magnet can be a guide, an eBook, a market analysis report, or anything that allows you to educate and build a relationship with your prospects.
Appointment Setting Funnels
Appointment-setting funnels drive your prospects to get in touch with you to learn more about your business, product, or service. Instead of you trying to sell them something, it puts your prospect in the driver's seat to choose when to get in touch with you.
Usually, the funnel will have a short application or questionnaire to pre-filter leads. Prospects can then book a time slot for their appointment.
Setting Up Your Paid Ads Funnel
Other than the Featured section on your LinkedIn profile, setting up paid ads is also a highly effective B2B lead-gen strategy. It works by setting up ads that will attract visitors, leading them to your landing pages, and then through your sequences to nurture them.
Ad Formats
There are several different ad formats and placement options to choose from on LinkedIn. Video and image ads are the most commonly used. You can also choose where your ads will be displayed on the platform.
Other than those, you can also opt for simple Text ads, dynamic ads that are personalized to your audience, and sponsored messaging.
Lead Forms
If you want high-quality leads from your ads,
Lead Forms
are available for Sponsored Content and Message Ads. The
forms are pre-filled
with the information on your prospect's LinkedIn profile, ensuring that the information you receive will be accurate and valid.
You can tweak the lead form to include custom questions and profile information that is important for your funnel.
Landing Pages
Once you have your ad format and placement decided, the next step is to have a place where you can direct your prospects to. If your ad attracts a prospect and they click, they're interested enough in your product or service.
You then need a landing page to retain their attention and convert them. Ensure that your landing page is easy to use, loads fast, provides a clear idea about your offer and has a concise CTA to tell them what the next step is.
If you have an appointment booking funnel, you'll need scheduling software like
Calendly
to integrate into your funnel.
Insight Tag
The
Insight Tag
from LinkedIn is a code snippet that you can put on your website to track conversions. You'll need this to
analyze the performance of your campaign
and get useful insights into demographics such as company names, industries, and job functions of your prospects.
Here's how to create and install your Insight Tag:
Head over to your Campaign Manager.
Click "Create My Insight Tag."
Once your Insight Tag is created, you can install it manually or with a tag manager.
Follow-Up Sequence
The key to the success of your LinkedIn lead generation efforts is follow-ups. You'll need
at least eight touchpoints
with relevant, high-quality content that is personalized to your prospects to convert them.
Provide immediate confirmation through email or text message once a prospect submits their contact information on your landing page.
Get in touch with your new prospect as soon as possible to kick things off.
Set up automated drip campaigns to send relevant content to prospects at every stage of their buyer journey.
If a prospect opts in, it means they are interested in your offer. You'll now need to use follow-ups to stay on top of their mind until they decide to convert.
Unleash the full potential of your LinkedIn profile with Taplio.
Get started today
and elevate your personal brand in no time