https://ondemand.bannerbear.com/simpleurl/eN6mLGkQNNed9zbP2O/image/title/text/10%20Creative%20Ways%20to%20Find%20Leads%20on%20LinkedIn
Find leads on LinkedIn like never before. Revolutionize your approach with game-changing ideas for attracting high-quality leads.
Find Leads on LinkedIn: 10 Creative Tips
For most marketers, social selling is a skill worth learning. While you may already know about prospecting techniques such as keeping your LinkedIn profile updated, seeing what prospects are posting, and searching for the right prospects using advanced search filters.
But what if all of these
lead-generation techniques
are still unsuccessful? When all these techniques are not cutting it for you, it may be time to explore a few
fresh ideas to find leads
on LinkedIn. Fortunately, we have just what you're looking for.
Supercharge Your LinkedIn Lead Generation with Taplio. Unlock 50+ Powerful Features to Create Compelling Content, Schedule Posts, Track Results, and Skyrocket Your Business Growth.
Sign Up Now
to Dominate LinkedIn and Monetize Your Account
10 Ways to Find Leads on LinkedIn
If you want to generate more opportunities for your
personal brand
, we've got ten creative ways to find leads on LinkedIn.
1. Use the "People Also Viewed" Featured
This section on LinkedIn is underused, but it is an incredible tool for finding leads. The section shows you potential prospects that are similar to your profile or the person's profile you are looking at. It is also regularly updated, so you won't be presented with the same profiles again and again.
Take a look at the profiles listed in this section and send a personalized
LinkedIn connection message
to grow your network. Instead of finding one prospect at a time, you'll have
access to ten prospects
every time you visit someone's profile.
2. Reach Out to Those Who Viewed Your Profile
An easy and creative way to generate new prospects is by taking a look at those who have viewed your profile and reaching out to them. It pays to be proactive on LinkedIn. You already know LinkedIn's "Someone has viewed your profile" feature. If someone has viewed your profile, chances are they might be interested in what you have to offer.
If you are a
LinkedIn Premium
user, you'll have unlimited access to who has been looking at your profile. Check it out, and if you think someone matches your ideal customer profile, send them a connection request.
3. Skill Endorsements
Everyone loves skill endorsements, but here's something you may have never considered. Other than a form of compliment, skill endorsements are also a hotbed of good leads. Make a list of your prospects and current clients already in your network and look at their endorsements. Chances are, you'll find names in the same industry you can contact.
Another great way to use skill endorsements is by giving them out to people you want to start a conversation with. Perhaps you have a lead that went cold or someone who never replied to your message. Send an endorsement their way, and they might start a conversation.
4. Explore Your Competitor's Network
An easy but cheeky way to
generate leads with LinkedIn
is by taking a look at your competitor's network and seeing if there are any prospects worth connecting with. Unless your competitor has protected them, their
networks are searchable
. They likely have customers and prospects in their connections.
All you need is to create a list of these prospects and see if they're interested in what you have to offer. Since these prospects are already familiar with your industry and the kind of solutions you offer, it may be easier to convert them.
5. Use Lead Recommendations on Sales Navigator
If you have
Sales Navigator
, the lead recommendations feature is a goldmine. This feature offers you recommendations of leads to explore based on your activity, interactions, search history, and preferences. This makes the recommendations closely match what you are probably looking for.
6. Look Into the Alumni Search Tool
You can
search for people on LinkedIn
using the standard search feature on the platform. While it is helpful, it's still not a great way to find leads. The people in those search results may not have common interests, so it is difficult to connect with them.
A better alternative is the alumni search tool. This tool can provide you access to people who attended the same school as you did. You'll have a common talking point if you want to connect with them. These prospects will be more likely to respond to you. Here's how to find the alumni tab on LinkedIn.
Enter the name of a school in LinkedIn's search bar.
Click on the name of the school to visit the profile.
Click on the "Alumni" tab.
Narrow your search down by entering a search term.
7. Engage With the Audience of a LinkedIn Event
Events are becoming more popular than ever, and with the right
outreach methods on LinkedIn
, you can access leads more likely to accept your invitation. If you know of an event in which your target customers are likely to participate, reach out to those with a
well-crafted invitation
. They are more likely to accept your invitation and start a conversation.
All you need to do is find the event, sign up to get a list of attendees, and then send them a personalized connection request.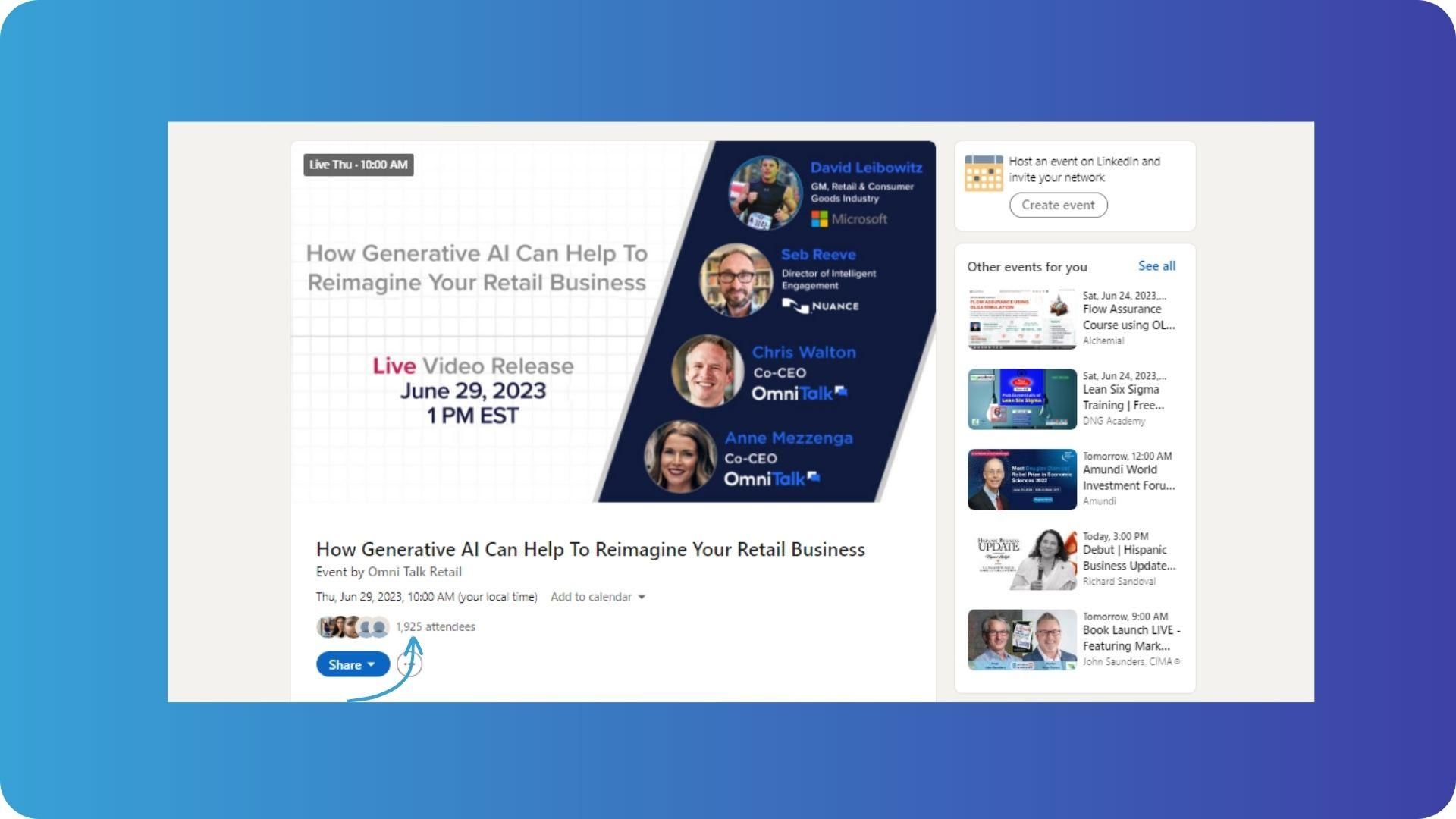 8. See Who Is Commenting on Your Prospect's Posts
Another incredibly effective way to find leads on LinkedIn is by checking out posts by your connections. Many people commenting on these posts could be potential leads for your business. These people are active on the platform and have something in common with your connections and prospects. Interact with them, start a conversation, and then move it over to
LinkedIn InMail
.
9. Search through Hashtags
Search through LinkedIn hashtags to check for buying impulses or those currently dissatisfied with the products or services they use. Look for people who are asking for recommendations and advice on pain points. If your product or service can solve those pain points, send them a personalized message.
10.Use Taplio to Find Leads on LinkedIn and Add Them
Taplio offers you multiple ways to find leads as an efficient
LinkedIn CRM system
. The "Contacts" feature in the CRM section of your Taplio dashboard allows you to import people from a Sales Navigator search. You can also import people who have liked or commented on a specific post on LinkedIn.
Additionally, the new Database feature on Taplio takes this one step further. Simply search the database based on profile filters of your preference or describe what you're looking for, and you'll have a rich database of potential leads and profiles you can engage with on LinkedIn.
Taplio
can help you find high-quality LinkedIn leads and nurture them to grow your business. The platform's 50+ features are designed to help you create better content, schedule your posts, monitor results, and generate more leads on LinkedIn while saving you a lot of time and effort. Sign up today to start building a brand and monetize your account!